These 52 Healthy Soup Recipes will help you create nutritious and delicious soups in Instant Pot, slow cooker, or on the stovetop. Whether you want a hearty soup, with light or creamy broth, vegetarian or with chicken, there's something for everyone!
These healthy soups also pair nicely with our easy lunch ideas for a hearty mid-day meal or serve with one of side dishes when feeding a hungry crowd.
When the weather outside is wet and cold, there's nothing better than a big, warming bowl of healthy soup or chili. It feels like a blanket of comfort and warmth.
I grew up eating soup every single day, learnt all the tips and tricks from my mom and grandma, and today I am sharing with you over 50 easy healthy soup recipes along with serving ideas, tips and tricks, storage advice and answering most common questions.
What Is a Healthy Soup?
Soup is one of the healthiest meals you can have. Here are the the reasons why:
Packed with veggies: All of my healthy soups are packed with veggies which means fiber.
Contains protein: Whether it is lean animal protein or plant-based protein, each one of these hearty soup recipes has it.
Lots of fluids: Low sodium broth or water, a lot of liquid keeps your body hydrated.
Filling: Not only these healthy soup recipes have great flavor, they also provide energy to keep you going through the day.
To make things easy and convenient, all of my favorite soup recipes in this collection are separated into categories.
Now, let's get this soup party started!
Healthy Soup Recipes with Chicken
If we were to take a poll, I think we might learn that almost all of us grew up eating bowls of chicken soup when we were feeling under the weather.
These healthy chicken soup recipes are perfect for the cold, wet, dreary days of winter. Plus, they are sure to chase away the sniffles during cold and flu season!
Chicken Tortilla Soup is made with tender chicken, crispy tortilla strips, veggies, and herbs in a deliciously spiced broth.
It's an easy, healthy soup that combines multiple fresh Mexican flavors to warm you to your bones!
This Chicken Lentil Soup with juicy chicken, tender lentils and chock full of veggies is a complete meal and so easy to make at the end of long day.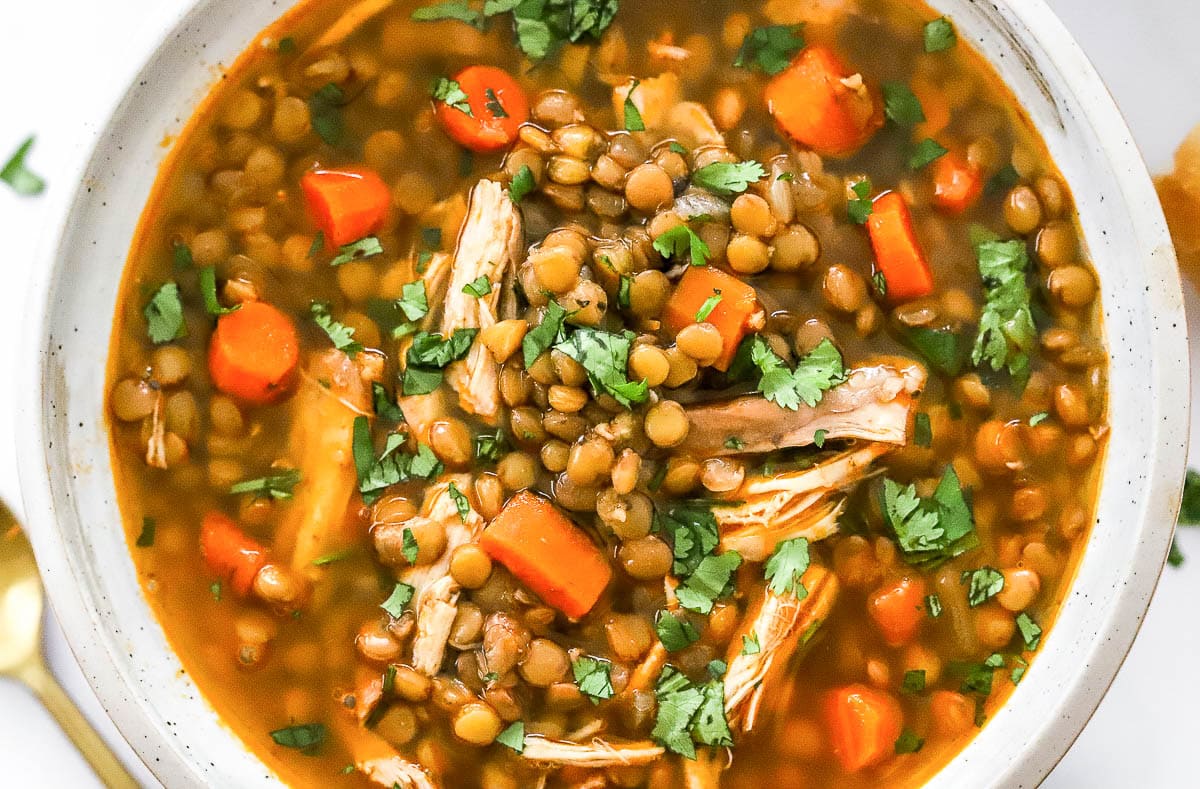 Chicken Wild Rice Soup is made without heavy cream, flour, or butter in your slow cooker, Instant Pot, or on the stove.
It is easy, creamy, low fat, and simply one of the best healthy soup recipes for dinner!
This Quick Chicken Noodle Soup combines juicy chicken, tender vegetables, and hearty noodles in just 40 minutes for a comforting soup.
Once you try this recipe, you will say "good-bye" to the canned and boxed stuff for good!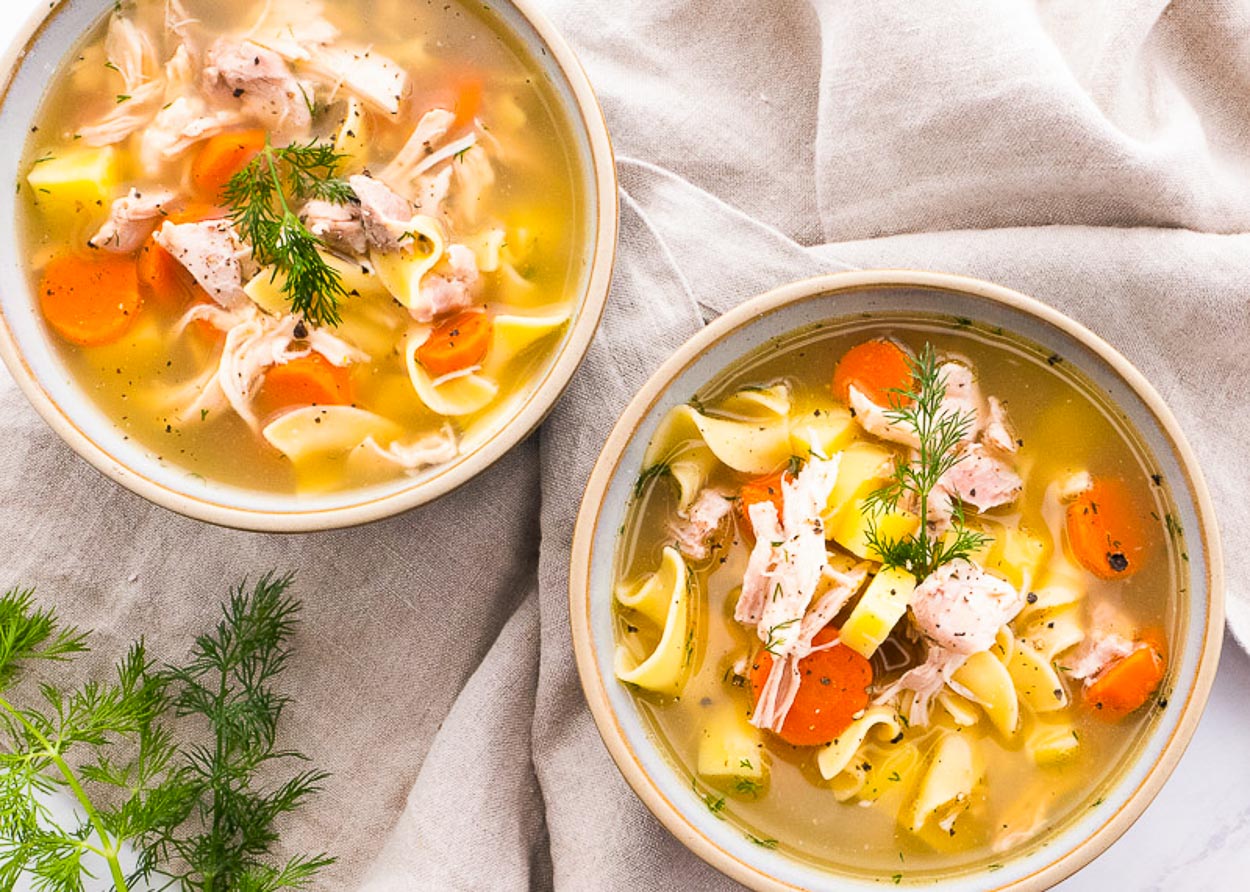 Chicken Noodle Vegetable Soup is the original soup for anyone feeling under the weather and is a must-try during the winter months.
With a combination of chicken, carrot, cabbage, celery, potato and noodles, this is a hearty, nourishing soup the entire family will love! Better yet, you can enjoy it on the stovetop or in a slow cooker.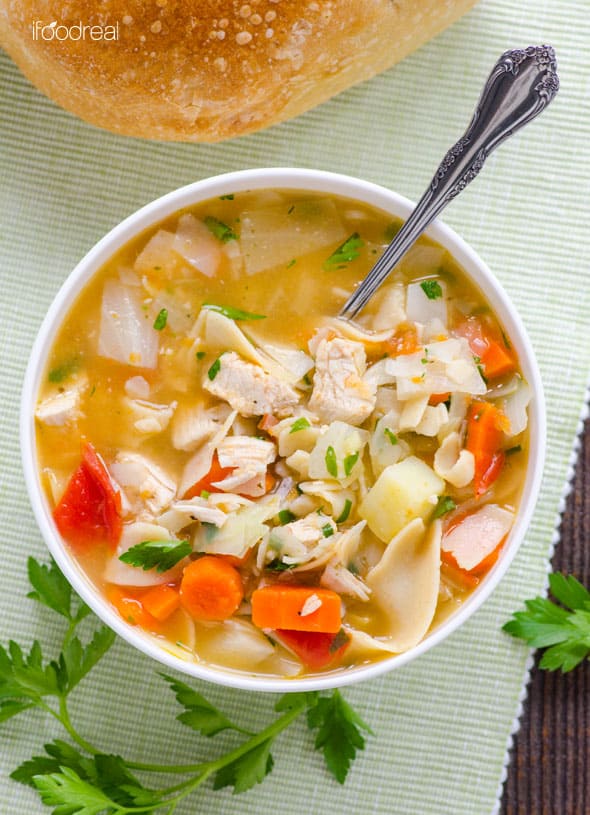 Delicious Butternut Squash Chicken Soup is loaded with delicious Thai flavors of coconut milk, peanuts, lime, and cilantro. It is not your regular butternut squash soup, it's better!
It's one of the most delicious soup recipes ever!
Healthy Soups with Turkey
Healthy turkey soup recipes may be less popular but the health benefits are just as good as chicken. After all, poultry is poultry, regardless of the variety.
Better yet, turkey naturally contains less fat too for an easy healthy ingredient swap.
Turkey Meatball Soup Recipe with pasta and vegetables is super easy to make and is healthy.
Kids love anything with meatballs and pasta, so this soup is one of the crowd-pleasing healthy soup recipes for sure.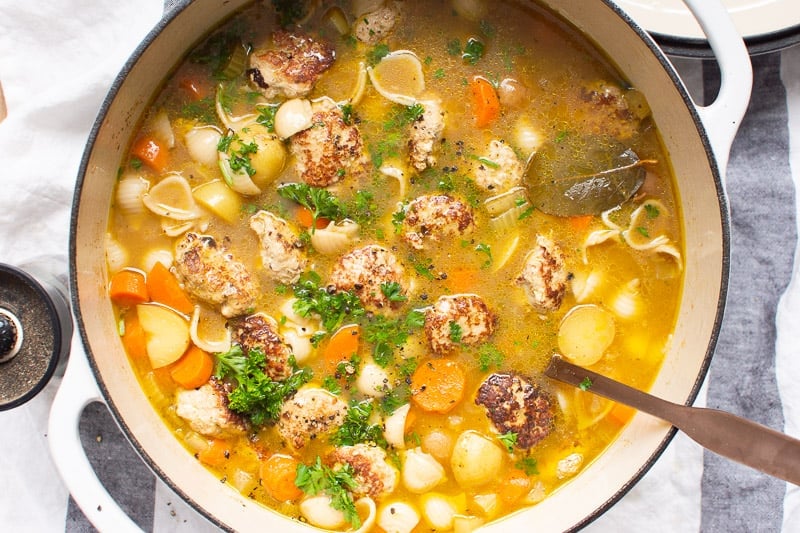 Every spoonful of this Turkey Taco Soup is bursting with flavorful ground turkey, beans, and corn.
Plus, this easy 30-minute soup can be made on the stove or in a slow cooker then topped with all your favorite toppings!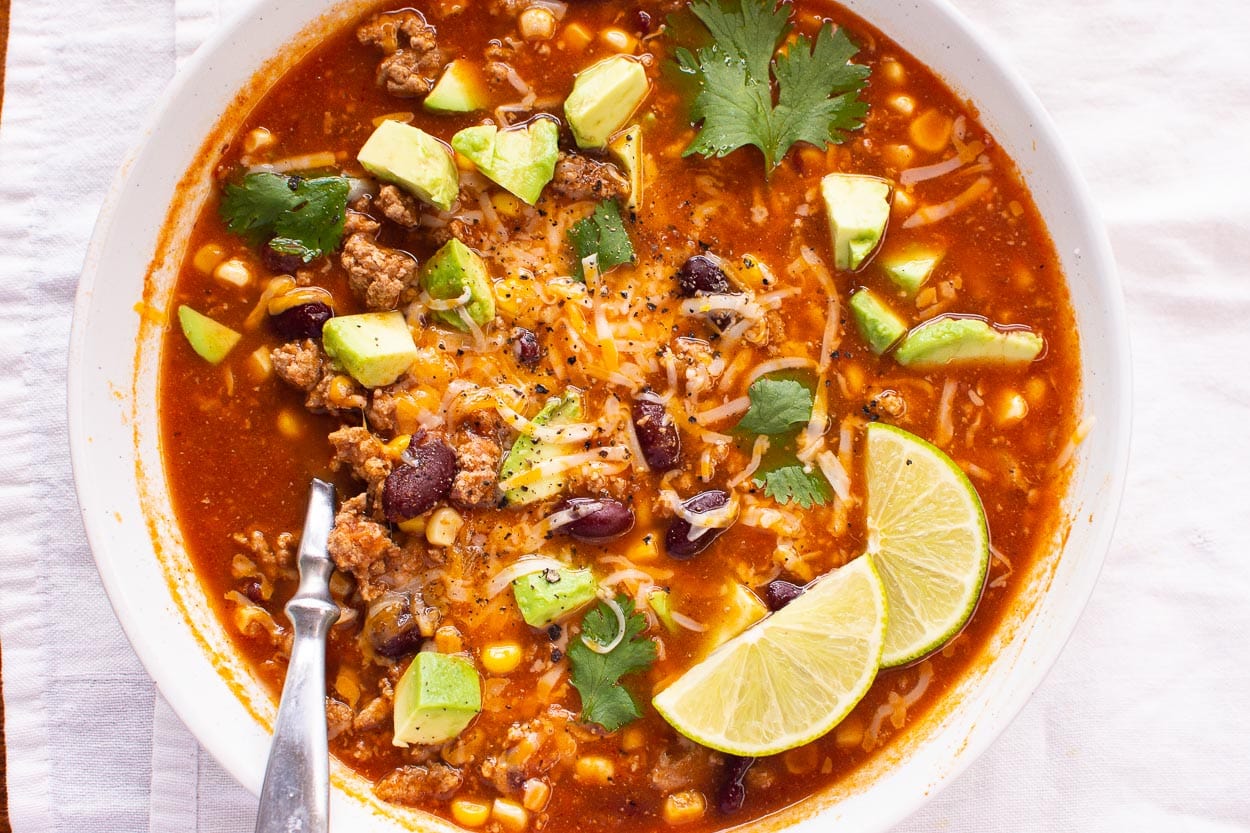 Stuffed Pepper Soup has everything you love about stuffed peppers but without all the work.
Made with simple ingredients like ground turkey or beef, brown rice, bell pepper, and tomatoes, this is a hearty bowl of soup with a sprinkle of Ukrainian flavor.
Turkey Noodle Soup is the perfect answer to leftover roasted turkey breast. Its broth is so healing and delicious, once combined with simple veggies and pasta your family will devour it in minutes.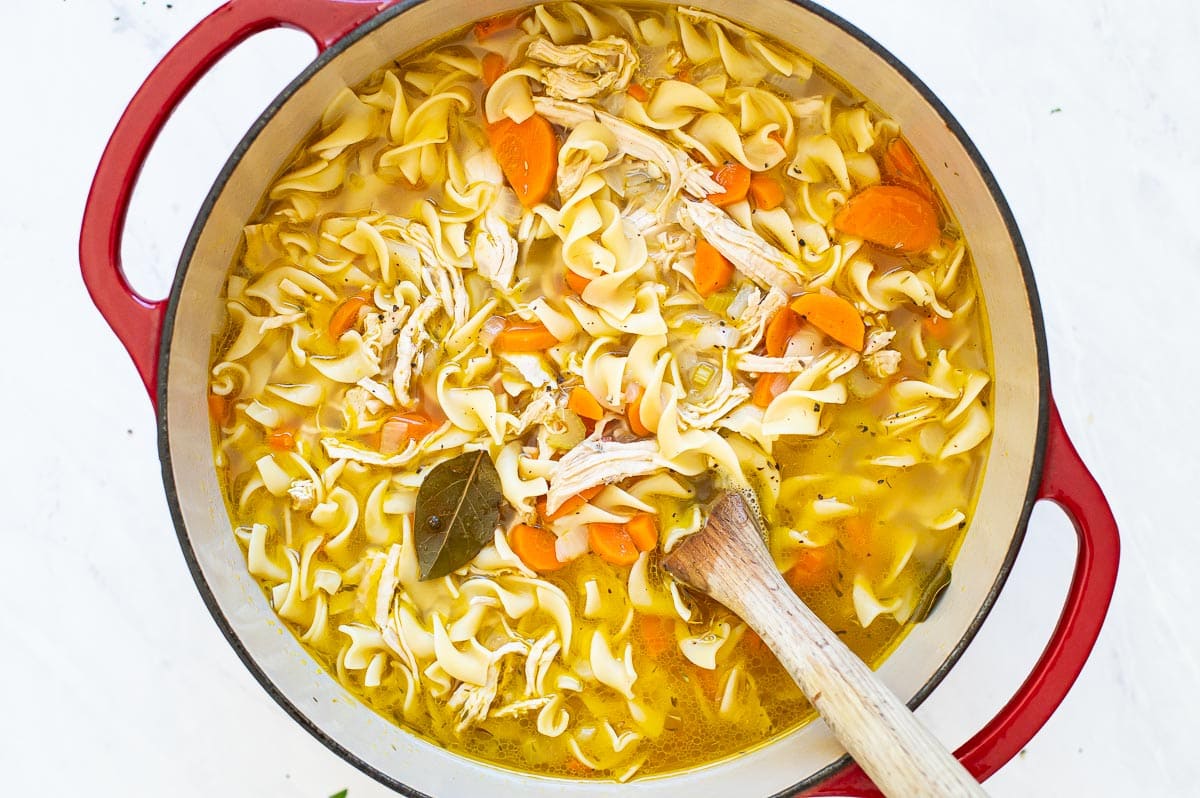 This flavorful Turkey and Rice Soup is the perfect way to use your leftover turkey!
Tender turkey, rice, and vegetables are simmered in a savory broth with fresh parsley and lemon juice added at the end.
Healthy Soup Recipes in Instant Pot
Because of its ability to steam, bake, and even saute with little to no oil, a pressure cooker is the perfect kitchen appliance for making soup for dinner.
When you have had a busy day, come home and put the ingredients for one of these Instant Pot recipes into the pot. Then, push a couple of buttons, grab your favorite beverage and make a beeline for the couch to relax while dinner cooks.
Instant Pot Split Pea Soup is a true 10-minute set and forget recipe. You don't have to soak the peas or saute the veggies and best of all, it's cheap, filling, and healthy.
Instant Pot Chicken Tortilla Soup is everything you love about Mexican food in a one-pot 30 minute meal. It's delicious and healthy, loaded with chicken, veggies, and tortillas, and will warm you to the bones.
Instant Pot Zuppa Toscana is a rich and hearty Italian sausage, kale, and potato soup. It is so easy to make this Olive Garden copycat at home, it will become one of your go-to healthy soup recipes.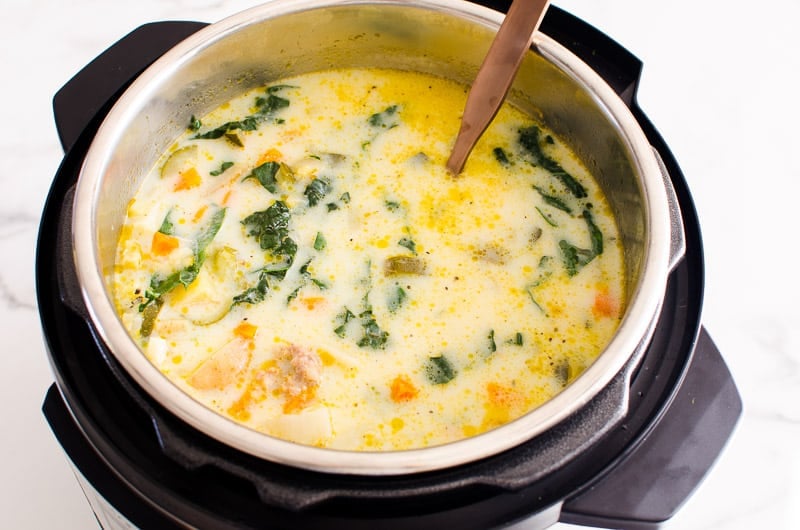 Instant Pot Butternut Squash Soup is quick and easy with simple ingredients, creamy texture and cozy with warm spices pressure cooker soup.
I recommend making a big batch for plenty of leftovers and serve with this apple kale salad for a soup for dinner meal full of full vibes!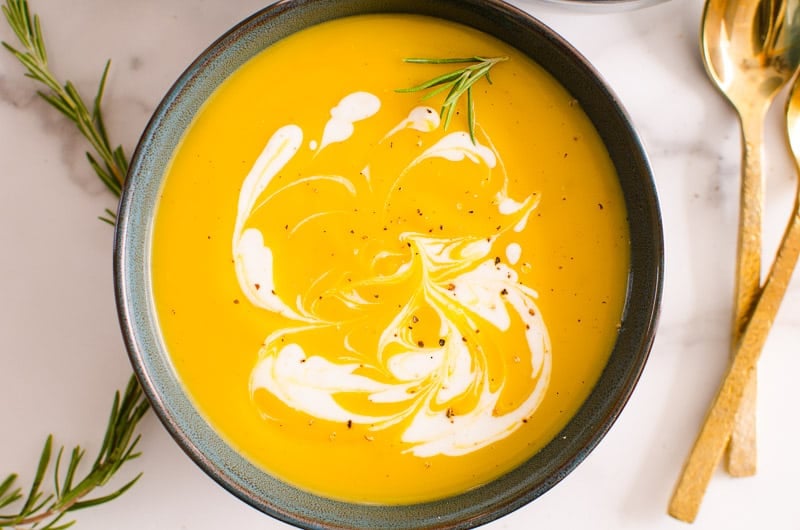 Instant Pot Minestrone Soup is a flavorful hearty Italian soup with beans, pasta, and veggies. Not only it is delicious and comforting but nutritious and so much better than any canned version!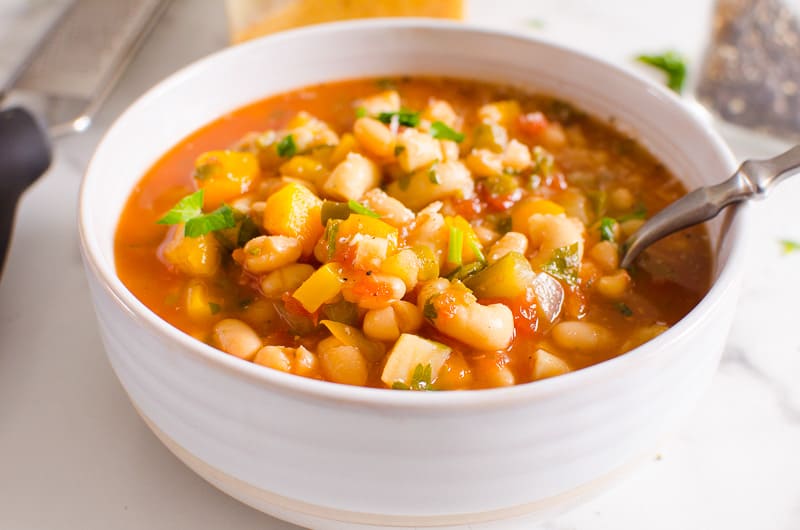 This is the Best Instant Pot Lentil Soup with green or brown lentils, canned tomatoes, and spinach in a vegetable broth that tastes like it's been simmering for hours. Best of all, it requires only 5 minutes of prep and no sauteing!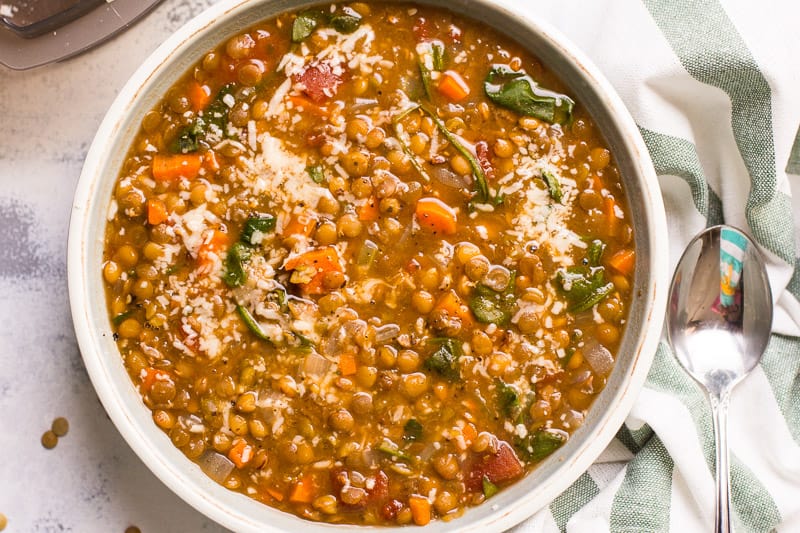 Instant Pot Chicken Noodle Soup just like my Ukrainian grandma used to make. It is easy, hearty, healthy, and delicious. Serve with fresh dill or parsley, lots of pepper, and toasted whole-grain bread to sop up all the juices. Yum!
Instant Pot Taco Soup is one of the easiest healthy soup recipes of all time. Made with mostly pantry ingredients, it is full of flavor, delicious, and nutritious.
Pair with Mexican kale salad for one of the most flavorful soup dinner ideas!
This hearty Instant Pot Black Bean soup is incredibly frugal, simple to prepare, requires no pre-soaking of the black beans, and is loved by meat-eaters and non-meat eaters alike!
Even better, it's packed with plant-based protein and fiber. One of the best soup recipes ever!
This Instant Pot Beef Barley Soup is a rustic soup in all the best ways. It combines fall-apart beef with tender carrot and celery and slightly chewy pearls of barely in a bold and flavorful broth perfect for enjoying in the colder months!
I love this Instant Pot Chicken and Rice soup for its magical ability to be both a light yet hearty, flavor-packed, nutritious soup that will warm you to your bones!
This healthy twist on a childhood favorite is sure to impress the entire family! Highly recommend to serve it with some cornbread.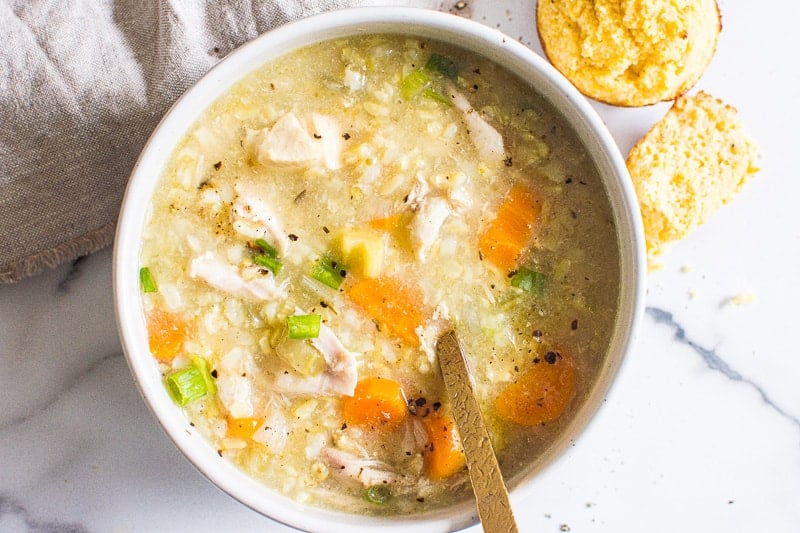 By swapping out the stovetop for an Instant Pot, this Instant Pot chili reduces two days of slow simmering to just one and a half hours. For the most hearty, flavorful, thick, delicious chili packed with ground beef, beans, and several pantry staples!
Just like the chili above, this Instant pot Potato Soup tastes like it's been simmering for hours but in under 30 minutes, thanks to the magic of the Instant Pot.
This potato soup is creamy, carby, aromatic, and flavorful in all the best of ways, making it the perfect winter soup! It is one of our most popular healthy soup recipes on the website.
This creamy Instant Pot Thai Chicken Soup encompasses all my favorite Thai flavors like coconut milk, red curry paste, cilantro, lime, peanuts, and more!
It is one of the best healthy soups that are creamy yet light, nourishing with just enough heat to warm your bones.
Even better, this Thai soup is perfect for meal-prep and can be prepared in a slow cooker or stovetop, too! Pair with Asian chopped salad for one of themed soup dinner ideas.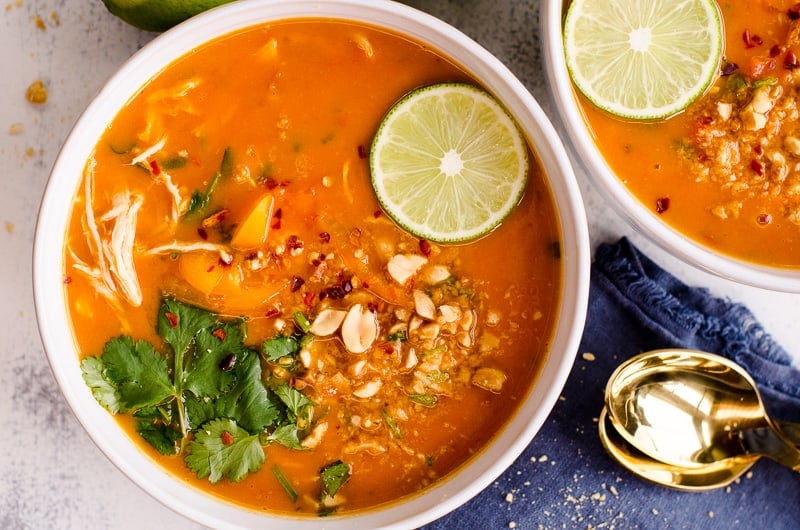 I adapted my grandma's Ukrainian cabbage and beet soup to be made easier and hands off in this Instant Pot Borscht recipe, and it tastes just like hers.
There is no sauteing of vegetables in "zazharka" for hours on end. Easy peasy, just throw everything in one pot and walk away!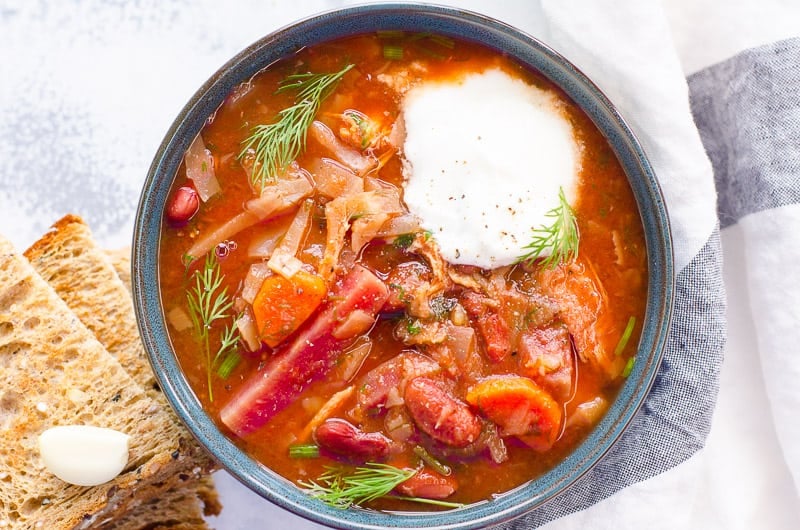 Slow Cooker Healthy Soups
When you need a hearty and nutritious meal and have no time to stand over the stovetop for hours, let your slow cooker come to the rescue. These slow cooker soup recipes are simple to make, hearty, and delicious!
This Slow Cooker Chicken Noodle Soup is made with a flavorful broth, shredded chicken, and tender noodles.
A bowl of hot chicken noodle soup is the perfect comfort food when you are feeling cold, sick, or even lonely. Just like my Ukrainian grandma used to make!
This Slow Cooker Lentil Soup recipe is the best "set it and forget it" healthy vegetarian soup with a hearty texture and umami flavor.
Just turn on your crockpot and walk away, then come back to delicious aromas and flavors!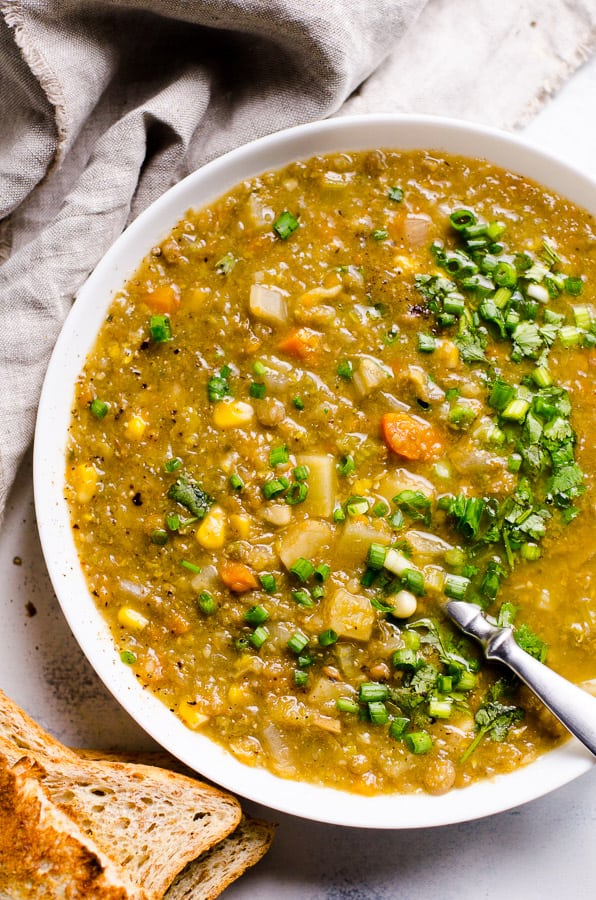 This Buffalo Chicken Chili is made healthy and yet creamy in a slow cooker or Instant Pot. It's perfect for any game day or potluck. Plus, it makes for a great freezer meal!
It is one of those healthy soup recipes that you will keep making on repeat!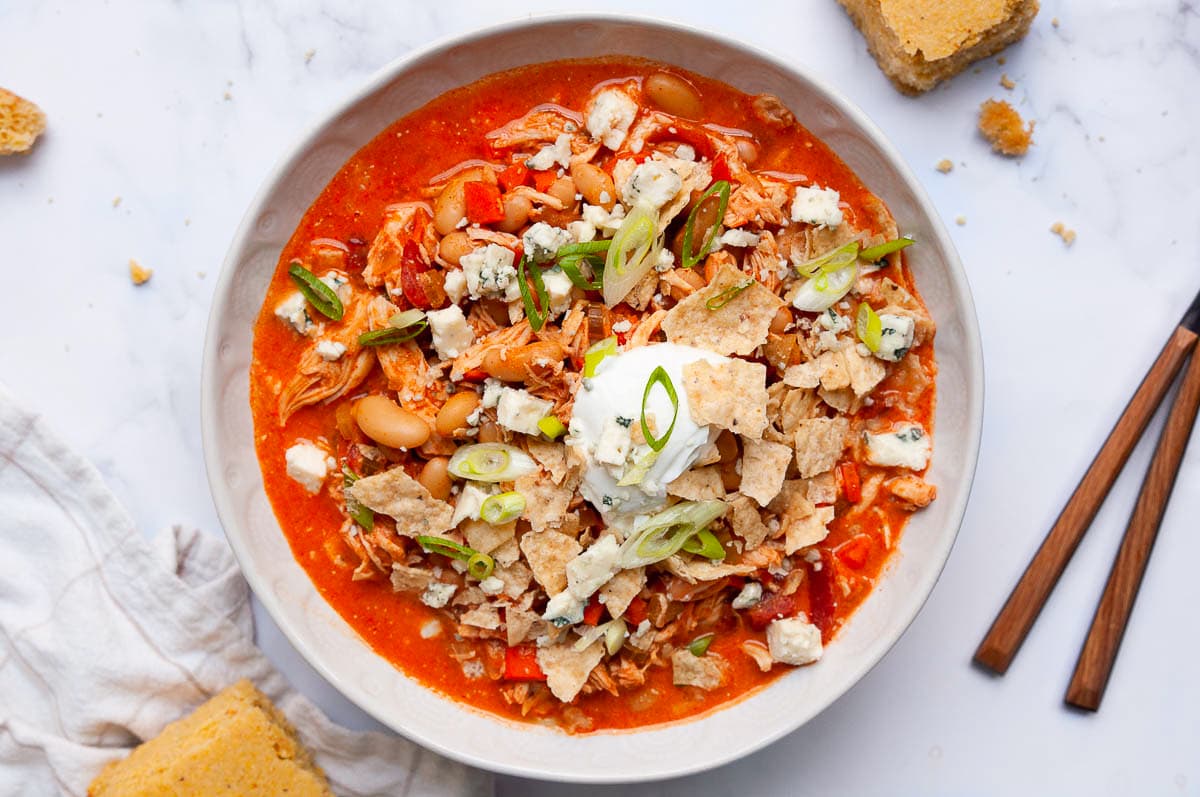 Warm up with a hot bowl of Turkey Chili on a cool fall day. Inspired by The Biggest Loser, this healthy chili is flavorful, high in lean protein, low in calories, and the perfect comfort food!
Healthy Soup Recipes with Beef and Pork
This Beef Barley Soup is flavorful, incredibly easy, and satisfying on a cold day. It's a healthy one-pot meal ready in an hour with ground beef, hulled barley, and vegetables. So good!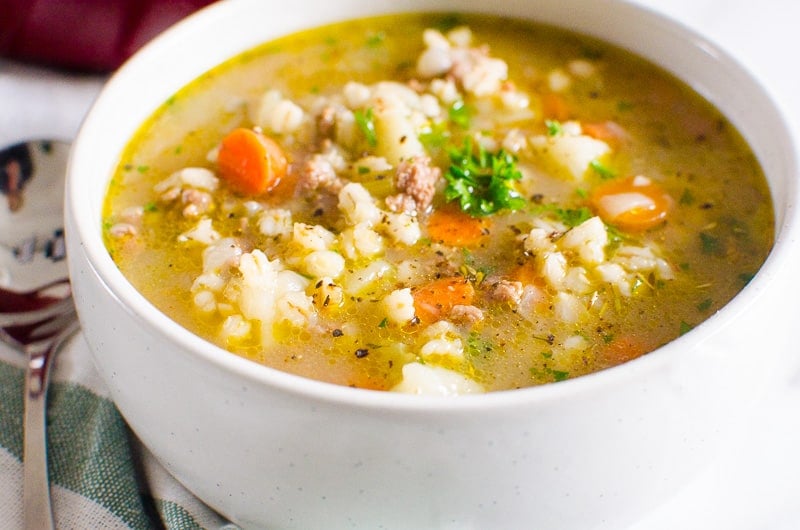 This hearty Ukrainian Buckwheat Soup Recipe combines soup bones, mixed vegetables, and roasted buckwheat for a healthy, wholesome, and delicious soup.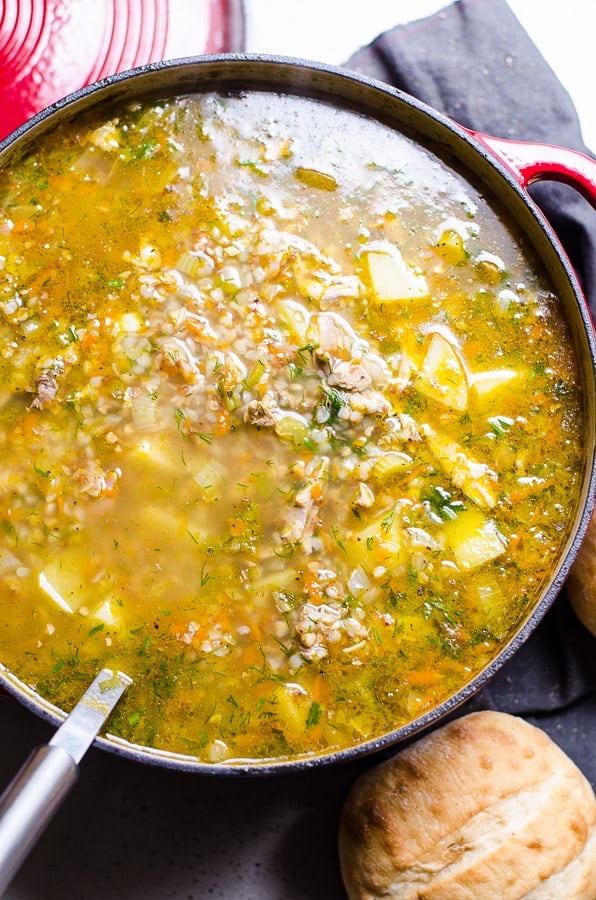 Enjoy this savory Cabbage Soup with beef ribs, potatoes, fresh cabbage, or sauerkraut known as Russian Shchi.
It's frugal yet flavorful and tastes delicious when served with sour cream or yogurt, dill, and bread.
Green Borscht is quick Ukrainian sorrel soup loaded with meat, potatoes and greens that we make during summer.
It is a cousin of traditional borscht, and I know it is not one of the traditional healthy soup recipes but I think you will love this delicacy!
Healthy Stew Recipes
If you want healthy soup recipes for meals that will warm your bones and keep you full, one of these healthy stew recipes is a perfect choice! They are frugal, simple to make, and packed with flavor and nutrients!
This quick Chicken and Chickpea Stew Recipe is packed with veggies and tomatoes and cooked on a stove, in a slow cooker, or Instant Pot. It's also incredibly freezer-friendly, perfect for winter meal prep!
Healthy White Chicken Chili is a 30 minute meal with chicken breasts, white beans, corn, cumin, and yogurt.
This healthy white bean soup is also easy to make on the stove, crockpot, or make Instant Pot white chicken chili. It's a true crowd pleaser that is even freezer meal prep friendly!
Instant Pot Beef Stew is a one-pot comforting dinner with fall-apart beef and variety of vegetables cooked in a delicious, hearty gravy sauce.
It's just like my Ukrainian grandma used to make with 2 secret ingredients to take it to perfection!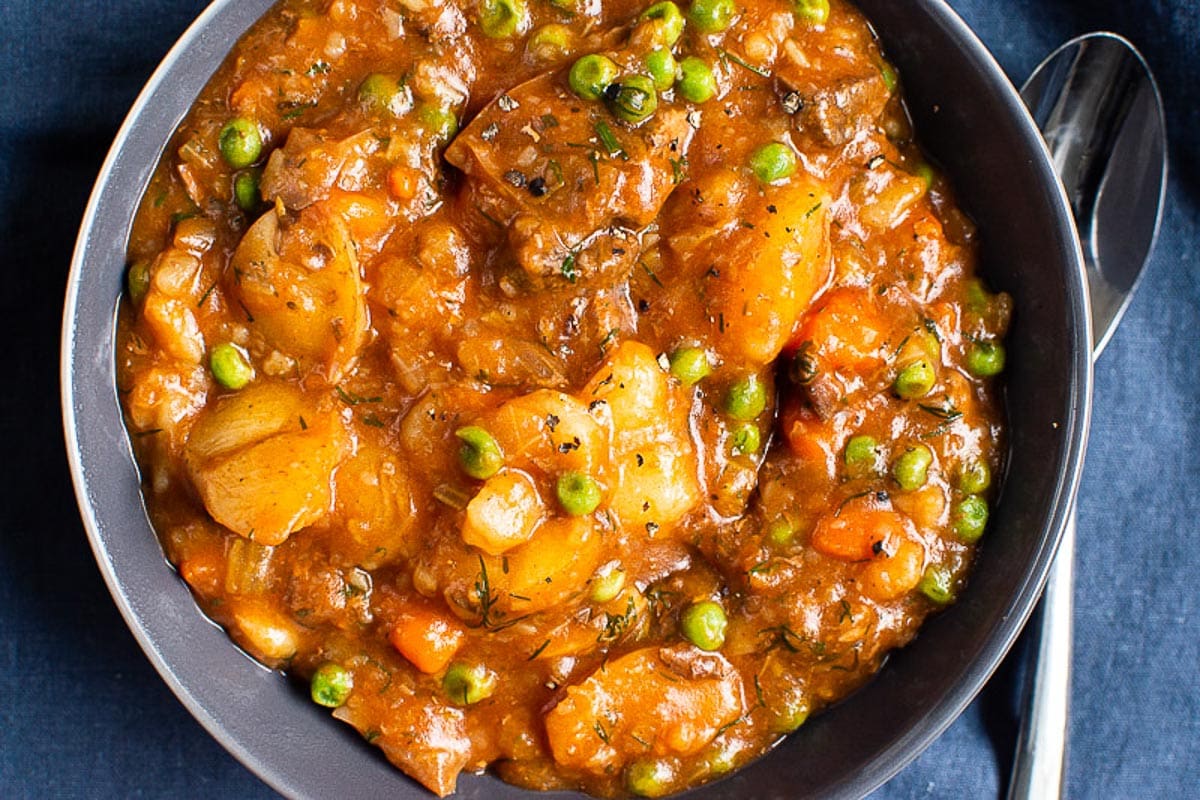 With a combination of tender chicken, potatoes, and carrots simmered in a flavorful broth packed with depth, then garnished with fresh herbs, this Chicken Stew is a dish that will have you salivating in anticipation as it simmers to perfection!
It is one of the most popular healthy soup recipes here on iFoodReal!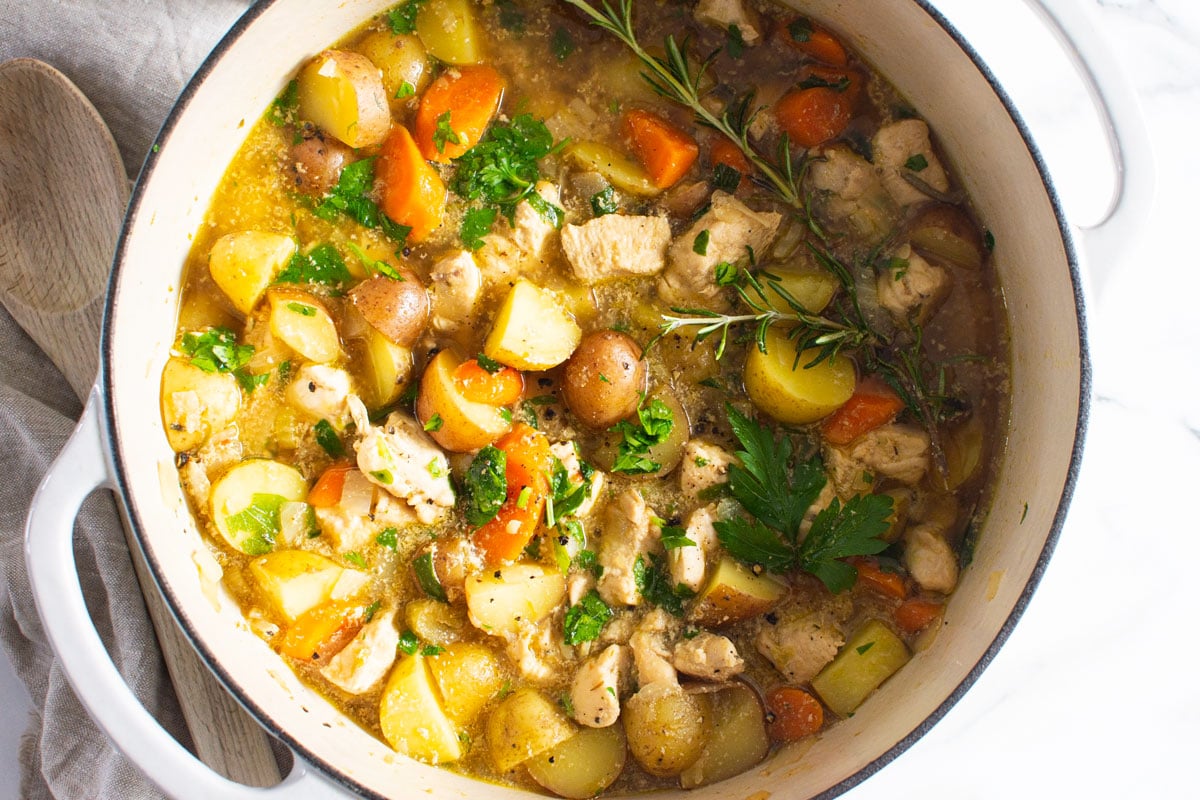 Ditch classic meats for this aromatic Cilantro Tomato Salmon Soup and enjoy the hearty tomato-based broth with lime and fresh herbs year-round!
Best of all, you can use pretty much any fish in this soup and fresh or canned tomatoes – it's up to you!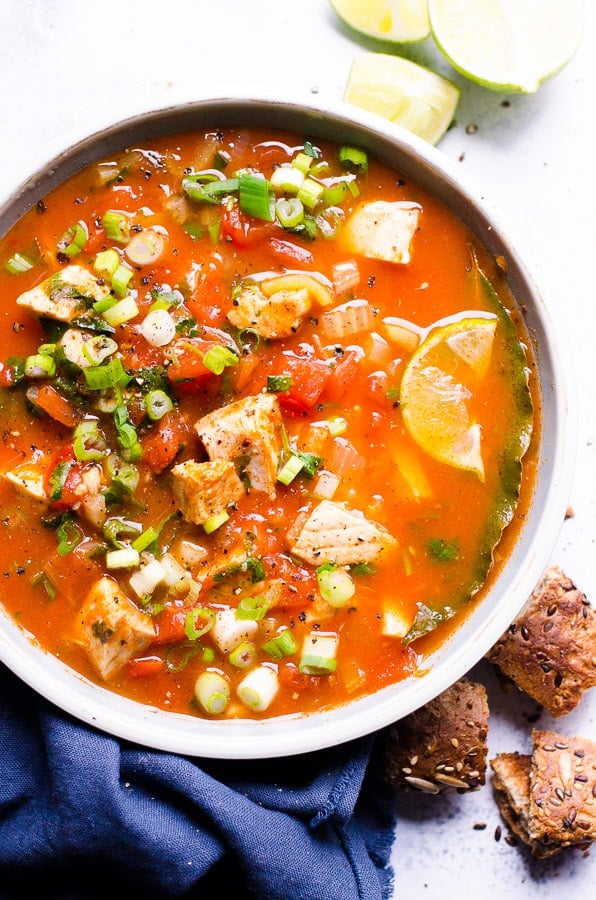 With just 10 minutes prep and 20 minutes cooking time, you can prepare this Instant Pot Chicken Stew. Just like the way my Ukrainian grandma used to make it! It's perfect for those busy evenings!
Vegetarian Healthy Soup Recipes
Make one of these flavourful and nutritious vegetarian healthy soup recipes for meatless Monday or any other day! These easy healthy soups don't have meat, but don't let it stop you from serving them with a meat-based main dish!
Hearty and thick, this Vegetarian Pasta e Fagioli Soup is a favorite of mine. This Italian classic is bursting with flavors and comes together with simple pantry staples like beans, pasta, and produce drawer goodness.
Pair this Healthy Tomato Soup (with canned tomatoes) with a gooey grilled cheese for a 10-minute healthy dinner. I just love how a healthy meal comes together in practically minutes from "nothing" with this easy recipe.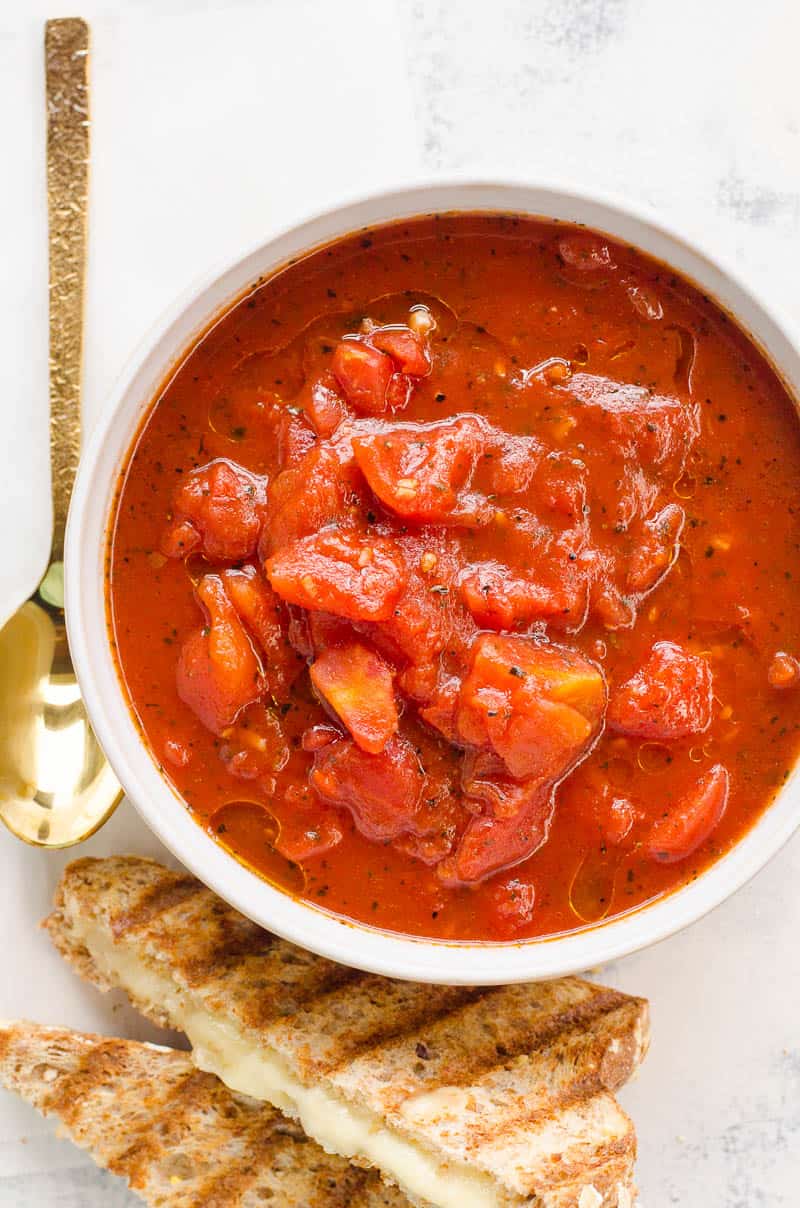 This Easy Vegetable Soup Recipe is loaded with fresh or frozen vegetables and is so easy to prepare. You can make it on the stove, as Instant Pot veggie soup or in a slow cooker.
This low calorie soup is perfect for a quick lunch or easy dinner, I love serving it with a slice of crusty bread.
Green Split Pea Soup makes an easy, delicious, and hearty bowl of soup that can be vegetarian or made with bone broth and meat.
It is one of more healthy soup recipes just the way my Ukrainian mother makes it!
Ukrainian Borscht is a traditional Eastern European sweet and sour soup made with beets, cabbage, garlic, and dill, then served with a dollop of sour cream and rye bread. This is my grandma's original borscht recipe I grew up on in Ukraine.
Warm up this season with a bowl of Simple Red Lentil Soup. A hearty soup made with a vegetable base, red lentils, quinoa and seasoned with cumin and coriander. It's simple and satisfying!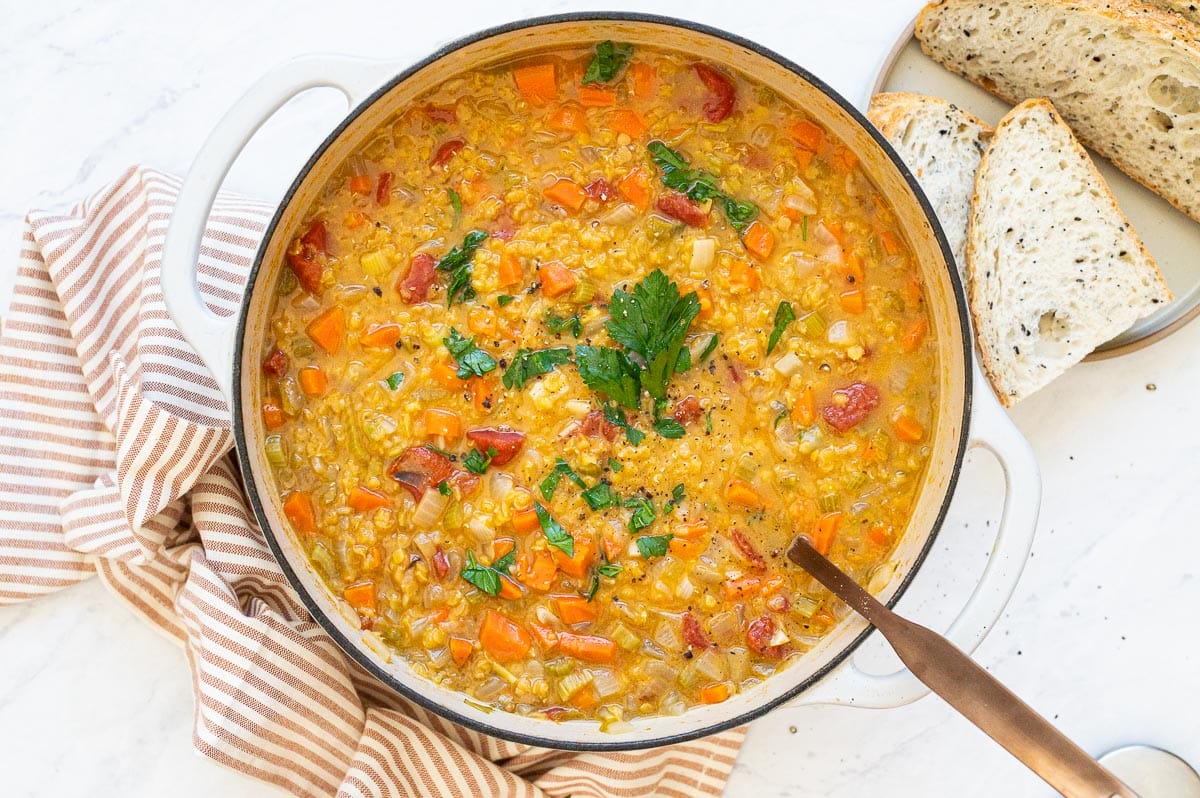 This Creamy Sun-Dried Tomato Soup is 100% vegan, using coconut milk in place of dairy for a quick, 15-minute tomato soup to impress!
One of the easiest healthy soup recipes!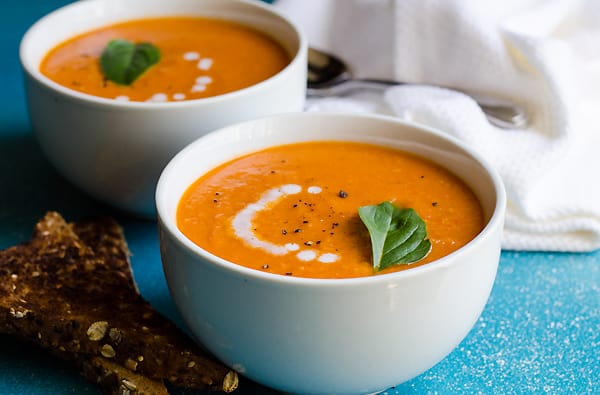 Healthy Butternut Squash Soup with healthy ingredients, in one pot and in 30 minutes. The creamy goodness and warm spices are so comforting on a chilly fall or winter day.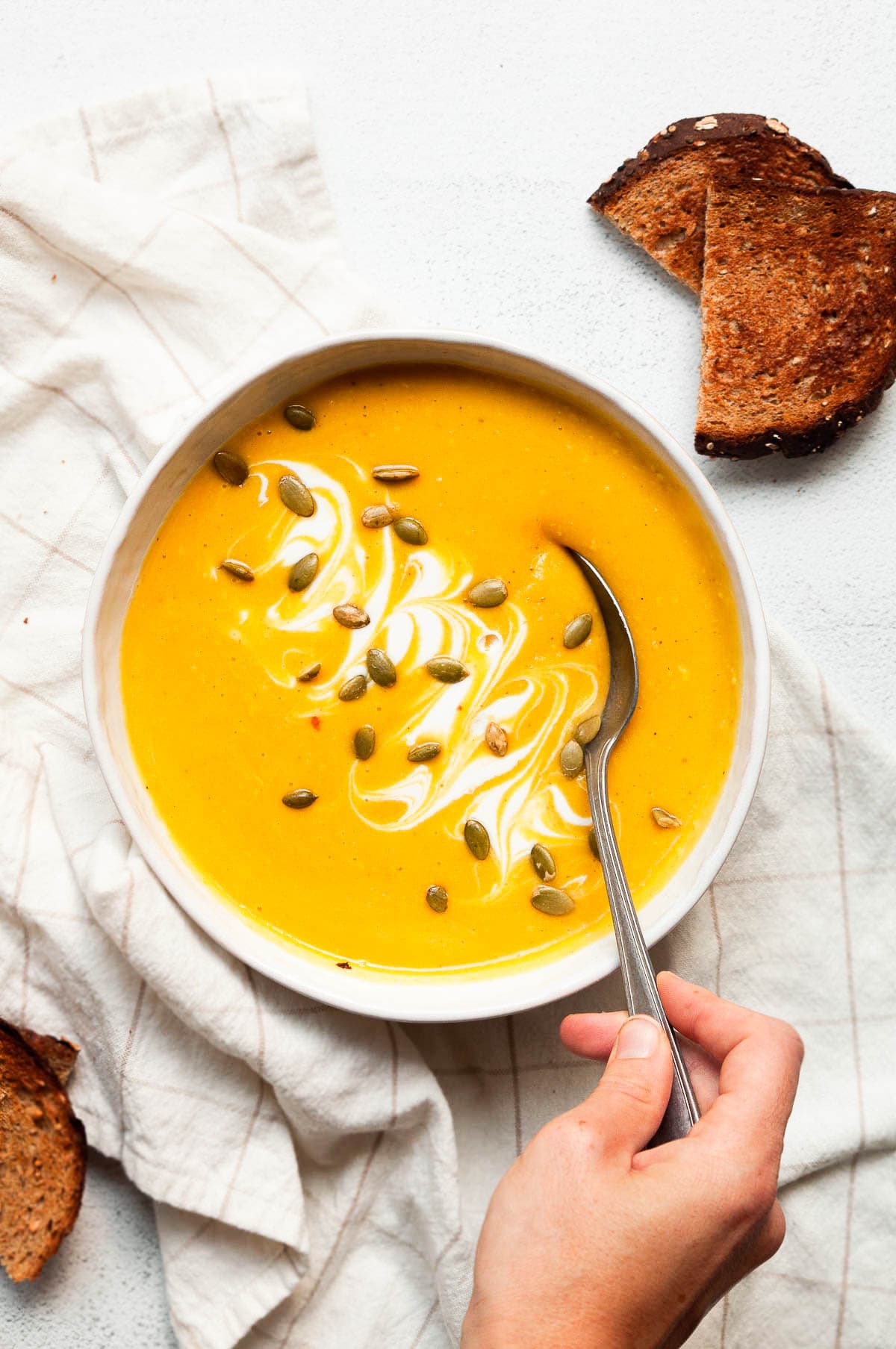 This Lentil Spinach Soup combines green lentils, diced tomatoes, fresh spinach, and lots of Parmesan cheese. The result is a healthy, easy, low-calorie, and hearty soup passed on to me by my Italian neighbor.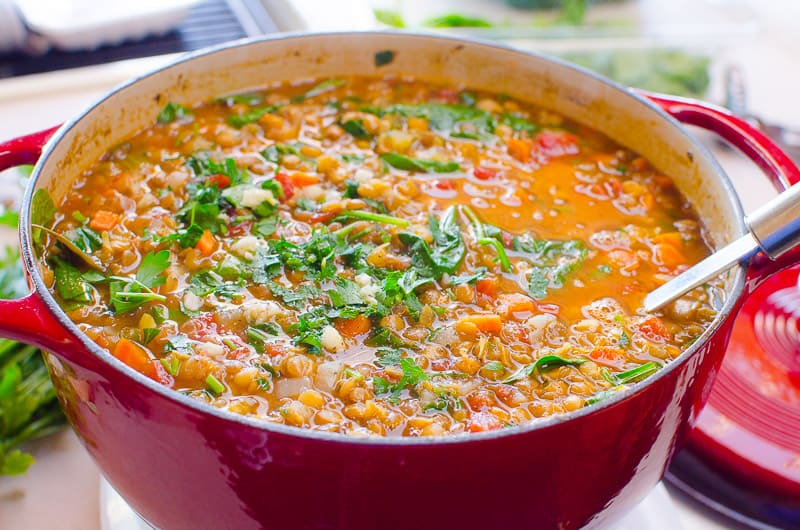 This hearty and healthy white Bean and Mushroom Soup is packed with umami and can be made on a stovetop, in a slow cooker, or Instant Pot. You can even make a massive batch and store some in the freezer!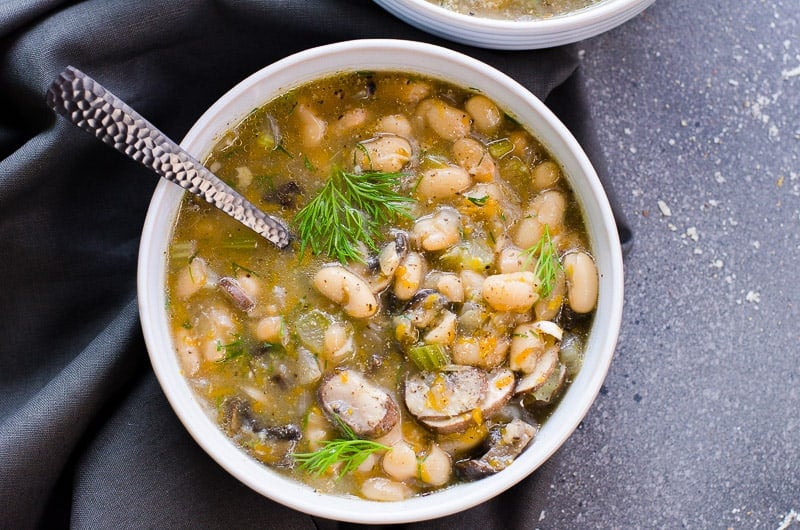 In just 15 minutes you can have this Buffalo Cauliflower Soup on your table and ready to curb those hot wings cravings.
With a combination of super creamy cauliflower, hot sauce, blue cheese, and several aromatics this veggie-packed soup is a healthy way to curb those cravings!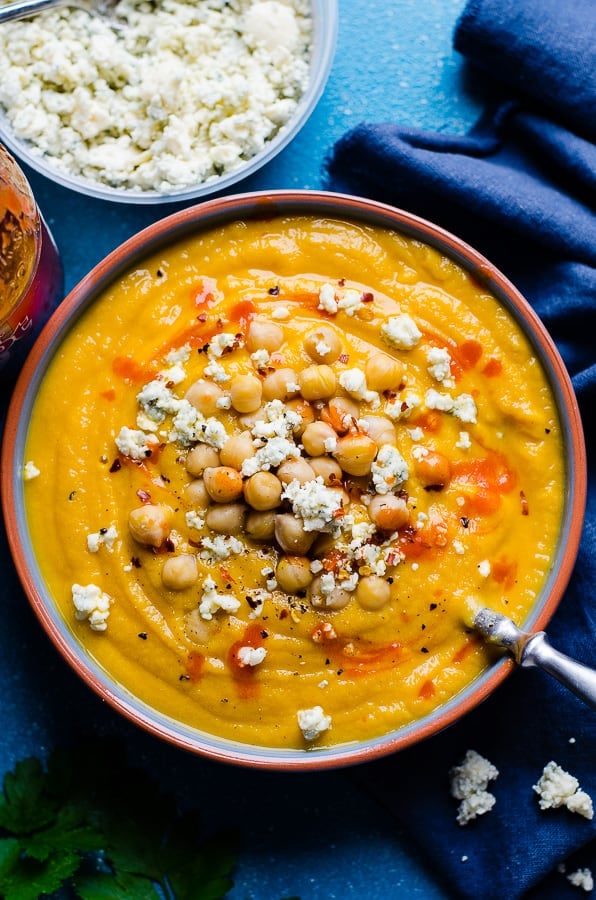 This Healthy Pumpkin Soup is velvety, creamy, and rich with a simple combination of pumpkin, several spices, and smooth coconut milk in a flavorful veggie broth.
Blend it to perfection and top with a little Greek yogurt and pumpkin seeds for a warming, hearty lunch or dinner! It is one of our favorite healthy soup recipes to make in the Fall.
Swap the lackluster canned versions for this classic homemade Minestrone Soup! It's hearty, aromatic, and loaded with veggies, beans, pasta, and herbs and then simmered in a flavorful tomato broth.
Best of all, while packed with flavor, this simple soup is also frugal and versatile.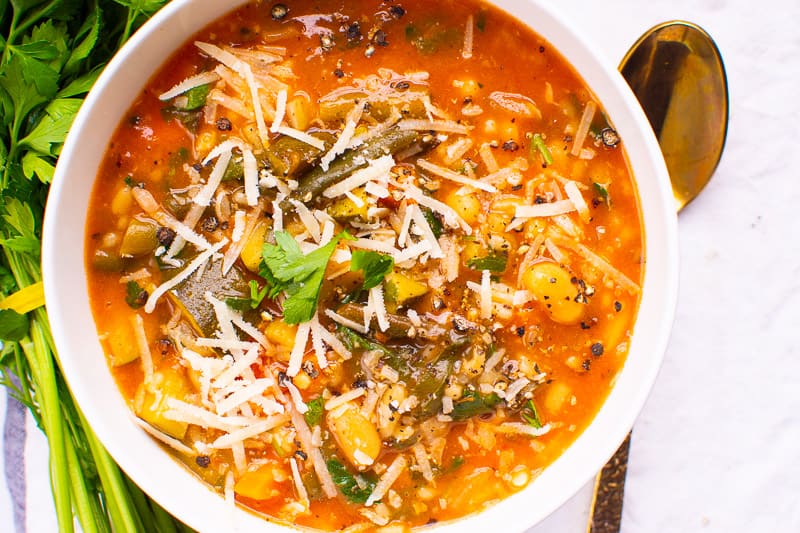 This Instant Pot Vegetarian Chili is a hearty stew made with beans, veggies, quinoa, and an irresistible rainbow of smoky flavors. It's full of fiber and protein, vegan-friendly, and ready in under an hour.
Best of all, there are tons of ways to enjoy this meat-free chili whether on its own in a bowl, to top nachos, or scooped into baked sweet potatoes, etc!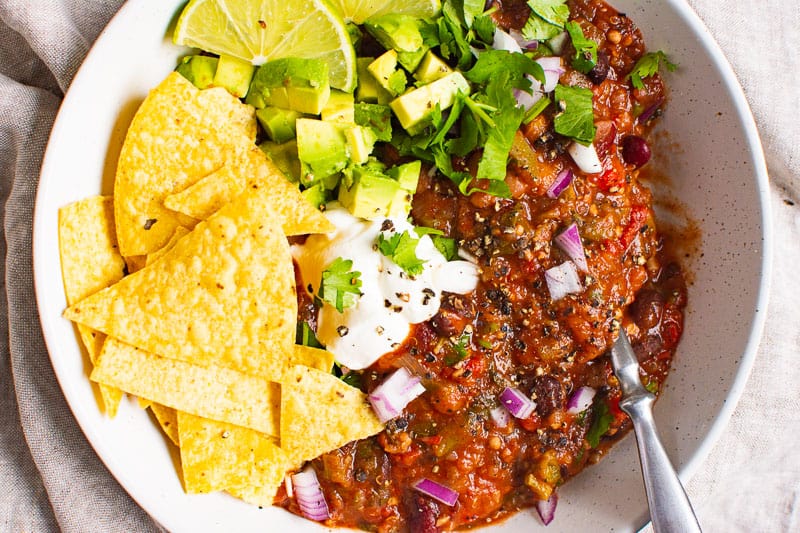 Top Tips for Making Healthy Soups
Adjust the sodium accordingly: I always use low sodium broth, that way I can adjust it myself!
Saute the ingredients: While this isn't always necessary, browning your meat and vegetables can pack in tons of flavor to simple soups.
Simmer, don't boil: Boiling soups can easily turn veggies and beans mushy, which is why a slow simmer is always preferred.
Add an acid: Adding an acidic ingredient to any soup helps to add brightness and create wonderful depth of flavor. Vinegar, lemon juice, lime juice, wine, or even tomato paste all work.
Use dairy sparingly: All of these healthy soup recipes go easy on any heavy dairy. Instead, you can add a spoonful of yogurt, cream or coconut milk to the top of your soup for just enough creaminess.
Make it more hearty: With the addition of pasta and whole grains like cooked rice, quinoa, buckwheat or starchy veggies like potatoes. Protein and fiber dense additions like legumes are also great for making a soup into a hearty meal.
Add fresh herbs: I can guarantee you that a handful of fresh parsley, fresh dill or fresh basil will take any soup from zero to hero.
Don't take shortcuts: The only shortcut worth taking with any soup is using an Instant Pot. That way, it still tastes like it's been simmering for hours but in a fraction of the time. Any other shortcuts will impact the flavor of your broth and not give it time to meld and develop it to be the best it can be.
How to Store Soup
One of the best things about these healthy soup recipes is that they are usually extremely freezer-friendly and perfect for meal prep. Unless they contain a lot of dairy, pasta or potato chunks.
This means you can make a large batch, serve some right away and then freeze the rest for later. Most healthy soups will keep well frozen for 3 to 4 months. These are my favorite glass airtight containers for freezing soup.
Also soups keep well in the fridge for up to 5 days, usually.
Just click on any of the recipes above to quickly find out their storage information.
Serving Recommendations for Soup Dinner Ideas
The best accompaniments to any healthy soup recipe will vary based on the flavors and textures in the soup. However, here are some of my favorite side dishes for soups.
Bread: A crusty loaf of bread, naan, pita, or even focaccia are perfect for sopping up all the juicy soup juices!
Sandwiches: Especially a grilled cheese!
Grains: For a heartier soup, you can add a portion of grains (rice, quinoa, couscous, pasta) directly into the soup and voila – instant hearty meal!
Salad: Soups pair wonderfully with leafy green salads like this lemon kale salad or a simple lettuce salad.
FAQs
What is the healthiest soup?
Depends who you ask. In my opinion, soups are packed with vitamins, minerals and nutrients while keeping flavor at a maximum, but fats and calories usually at a minimum. Healthy soups are a great way to pack in fiber and veggies, usually from frugal ingredients in your kitchen. So any of these healthy soup recipes is the best soup.
What is the healthiest soup to eat when you're sick?
Maybe it's cliche but you can't get much better without a bowl of chicken noodle soup when you're feeling under the weather. In fact, any of the above easy soup recipes that combine meat, veggies and noodles are a favorite of mine for when I need a pick-me-up!
How do I spruce up homemade soup even more?
There are several ways to jazz up your soup including adding fresh herbs and spices, finishing it off with something acidic (lemon juice or vinegar) to add brightness and depth, adding more umami flavor (soy sauce or aged cheese), or even simmering the soup for longer to reduce it for a more flavorful broth!

If you have yet to make soup, my biggest advice is to first sear any meat or brown any veggies for an easy way to pack in tons of flavor.
Is eating soup good for losing weight?
Any meal packed with whole foods and real ingredients is good for maintaining a healthy lifestyle.
More Healthy Recipes to Try
52 Healthy Soup Recipes: Chicken Wild Rice Soup
One of my most popular healthy soup recipes. Chicken Wild Rice Soup is easy to make in the Instant Pot, slow cooker or stovetop. Made without heavy cream, butter or flour it is healthy comfort food in a bowl.
Instructions
Slow Cooker: Add chicken, onion, garlic, carrots, celery, potatoes, mushrooms, wild rice, water, thyme, salt, and pepper into a large slow cooker. Then just cover and cook on High for 5-6 hours or Low for 8-10 hours.

Remove chicken from slow cooker and shred using 2 forks. To the slow cooker, add milk, mustard and garlic powder. Use an immersion blender to puree the soup to desired thickness. Add  the shredded chicken and parsley. Stir and serve hot.

Stovetop: Add avocado oil to a large heavy bottom pot or Dutch oven. Add onion, garlic, carrots, celery and fresh mushrooms (if using), and saute for 5 minutes. Add chicken, potatoes, wild mushrooms (if not using fresh), wild rice, water, thyme, salt, and pepper. Bring to a boil, cover and then for 45 minutes on low heat.

Once cooked, remove the chicken and shred using 2 forks. Add milk, mustard and garlic powder; to the pot. With an immersion blender, blend the soup to desired texture. Return shredded chicken to the pot and stir.

Garnish with parsley and serve hot.

Instant Pot (6 or 8 quart)****: Add chicken, onion, garlic, carrots, celery, potatoes, mushrooms, wild rice, water, thyme, mustard, garlic powder salt, and pepper to Instant Pot. Cover, set pressure valve to Sealing and press Pressure Cooking on High for 25 minutes. Wait 10 minutes and do a Quick Release to release the pressure by turning the valve to Venting.

Remove chicken from soup and shred with 2 forks. Add milk to instant pot. With an immersion blender, give a few pulses until soup is desired thickness. Add shredded chicken, parsley, stir and serve hot.
Notes
Store: Refrigerate in an airtight container for up to 5 days.
Freeze: Up to 3 months.
Freezer Meal: In a large Ziploc bag, add all ingredients (except water, milk and parsley), release out as much air as possible, seal and freeze for up to 3 months. If cooking in slow cooker, thaw in the fridge for 24 hours, add to slow cooker along with water and cook as per above instructions + 1 hour. If cooking in Instant Pot, cook from frozen for 25 minutes with Quick Release. Then follow last step in the recipe.
For the slow cooker version, I used frozen drumsticks. But ANY type of chicken works – raw, bone in/skin on or boneless/skinless, cut up whole chicken, and cooked cubed/shredded. If using cooked chicken, add towards the end of the cooking time. You should also use chicken broth instead of water since the chicken won't be cooking in water creating a broth.
Water or broth? Use water with raw chicken and broth with cooked chicken.
Dairy free: You can use any unsweetened plant-based milk, but soup will just be less rich but still creamy.
For 3 quart Instant Pot, cut recipe ingredients in half, but keep the same cooking time.
Nutrition
Serving:
1.5
cups
|
Calories:
296
kcal
|
Carbohydrates:
40
g
|
Protein:
16
g
|
Fat:
9
g
|
Saturated Fat:
3
g
|
Cholesterol:
37
mg
|
Sodium:
686
mg
|
Fiber:
4
g
|
Sugar:
6
g