Here are 45 Healthy Zucchini Recipes that are easy to follow, use simple ingredients and are packed with flavor! Enjoy your zucchini year round whether it's the main dish, a side dish, or even a baked dessert. There is something for everyone!
Why You'll Love These Healthy Zucchini Recipes
Healthy and delicious are always two things I keep at the forefront of my recipes and these healthy zucchini recipes are no exception.
Plenty of ideas on what to do with more than enough zucchini.
Versatile recipes for a versatile vegetable, whether it be a main dish, a side dish or a healthy zucchini dessert. It could be vegetarian, gluten-free, dairy-free, refined sugar-free, or all of the above. It could be grilled, baked or spiralized into zoodles!
Kid friendly recipes are in abundance in this collection of zucchini recipes. Find the ones your whole family will love and add them to your rotation. Adding more veggies to your kids' meals and desserts is now even easier.
Quick and easy is the name of the busy household game. Anything that works for a busy family, I have included in here. Perfect for easy weeknight zucchini dinners.
Cook year round because despite it being a summer squash, zucchini can be found at your local grocery store any given month. So keep these healthy zucchini recipes handy when you're looking for holiday side dishes and cozy baked goods.
Chicken Zucchini Recipes
Mexican Chicken and Zucchini cooked in one skillet with black beans, corn, fresh herbs, taco seasoning and melted cheese on top. One pan, low carb and 30 minutes dinner.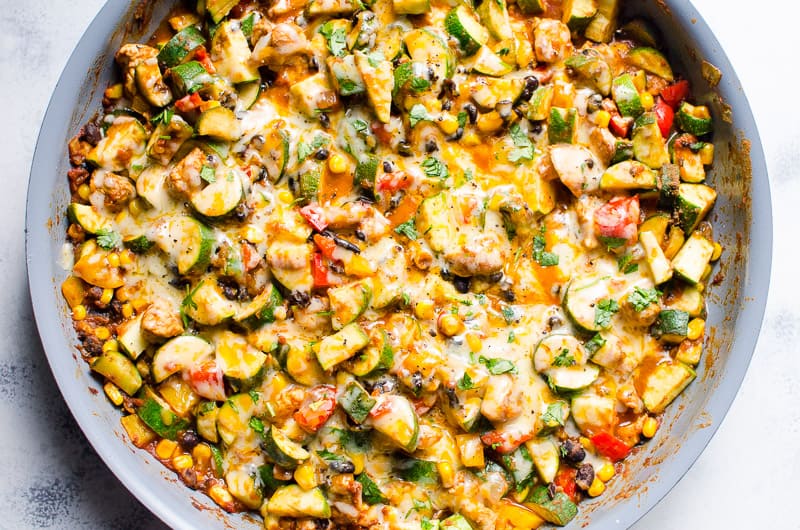 Caprese Chicken and Zucchini cooked in fresh tomato sauce, with melted buffalo mozzarella cheese on top and garnished with fresh basil. Serve on its own for easy low carb dinner or with spaghetti for a family meal. Buon appetito!
Low-carb Chicken Zucchini Casserole with layers of chicken, zucchini noodles and easy enchilada sauce. Lots of fiber, vegetables and protein.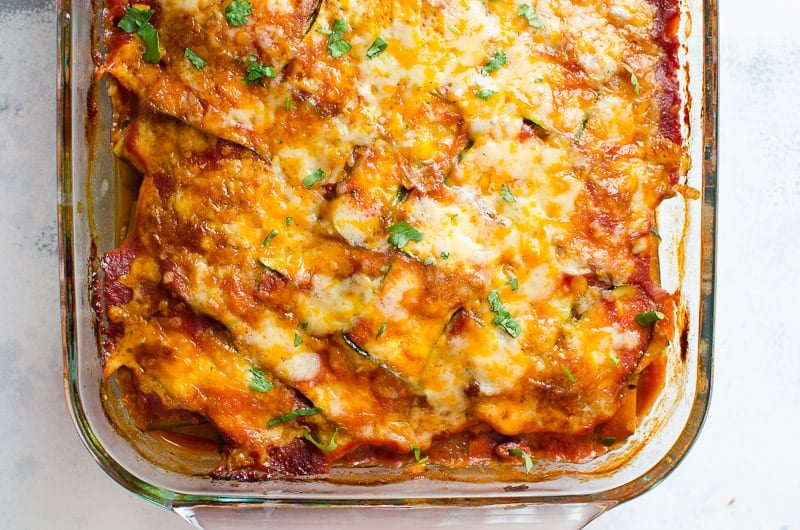 This garlic Chicken Zucchini and Corn recipe is a 20 minute healthy weeknight dinner that was inspired by my Ukrainian roots. Low carb, easy and one pan deliciousness!
Zucchini Noodles with Chicken, cilantro and lime is a delicious 20 minute dinner idea that's light, healthy, and gluten-free.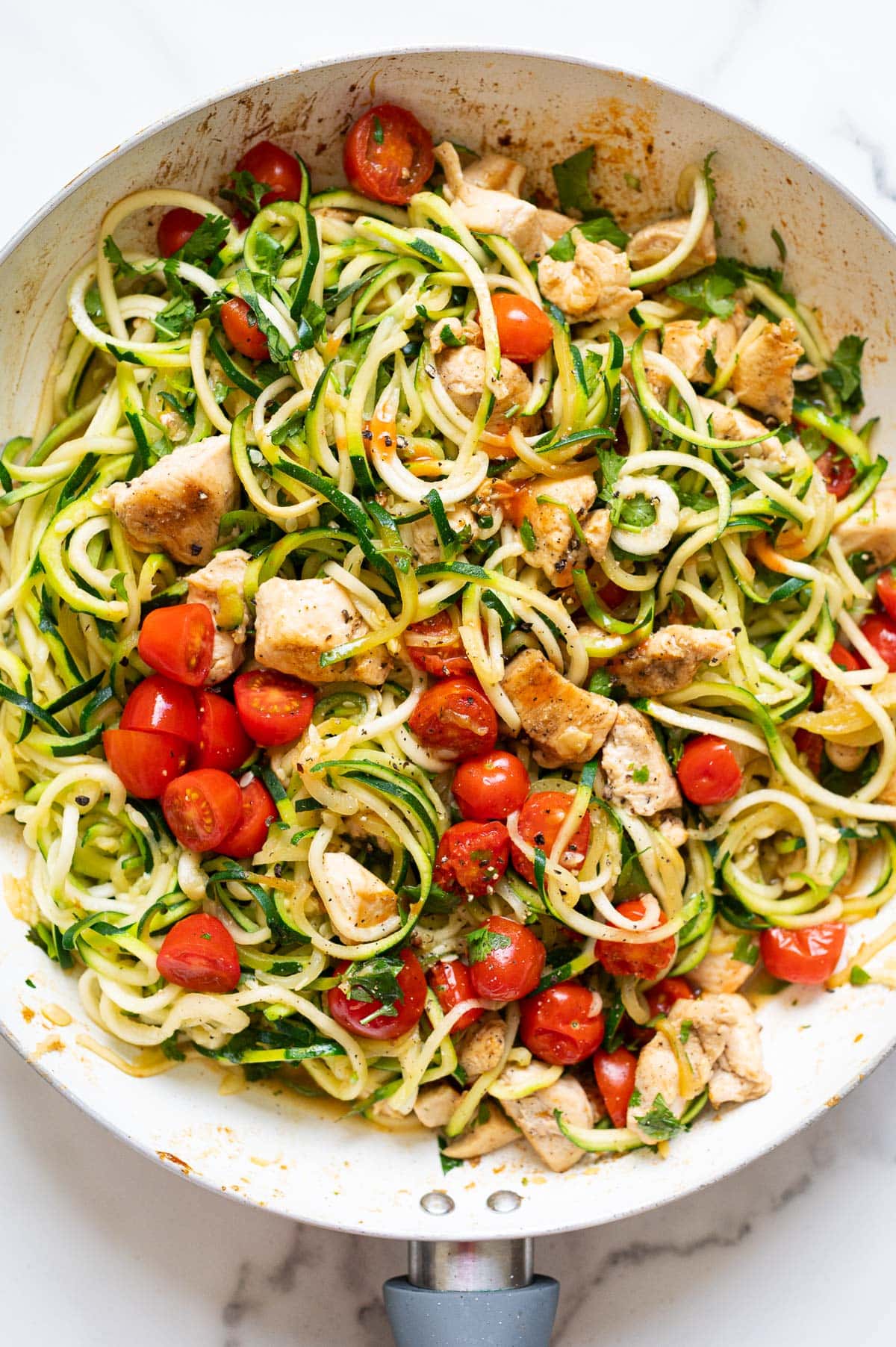 This Chicken Quinoa Skillet combines tender chicken, fresh garden vegetables and nutrient-dense quinoa for a quick 30 minute meal.
Zucchini Dinner Recipes
This 30 minute healthy Ground Turkey and Zucchini Skillet is delicious low carb one pot dinner recipe that will become your family's favourite! Minimum ingredients and effort with maximum flavour.
Zucchini Lasagna made low carb with layers of zucchini instead of pasta, flavorful turkey tomato sauce and gooey cheese. Classic comfort food experience at only 318 calories per huge slice.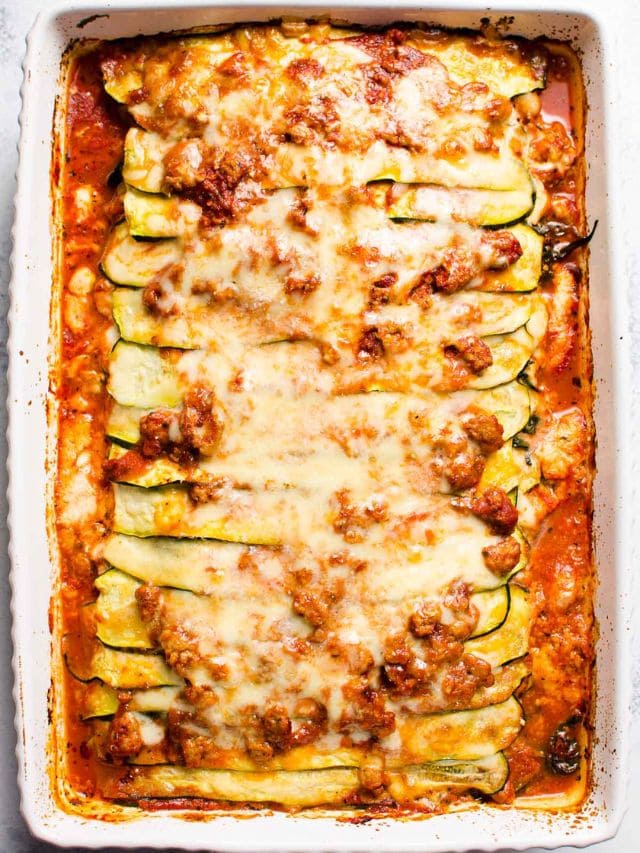 Creamy Zucchini Ricotta Pasta is the perfect summer mix of garden veggies, rich cheese, bacon, and fresh herbs. Make this easy one pot meal any night of the week!
Pasta with zucchini, tomatoes, garlic and basil is 20 minute healthy dinner that is a summertime must have. Light and fresh, everyone will love this garden dinner!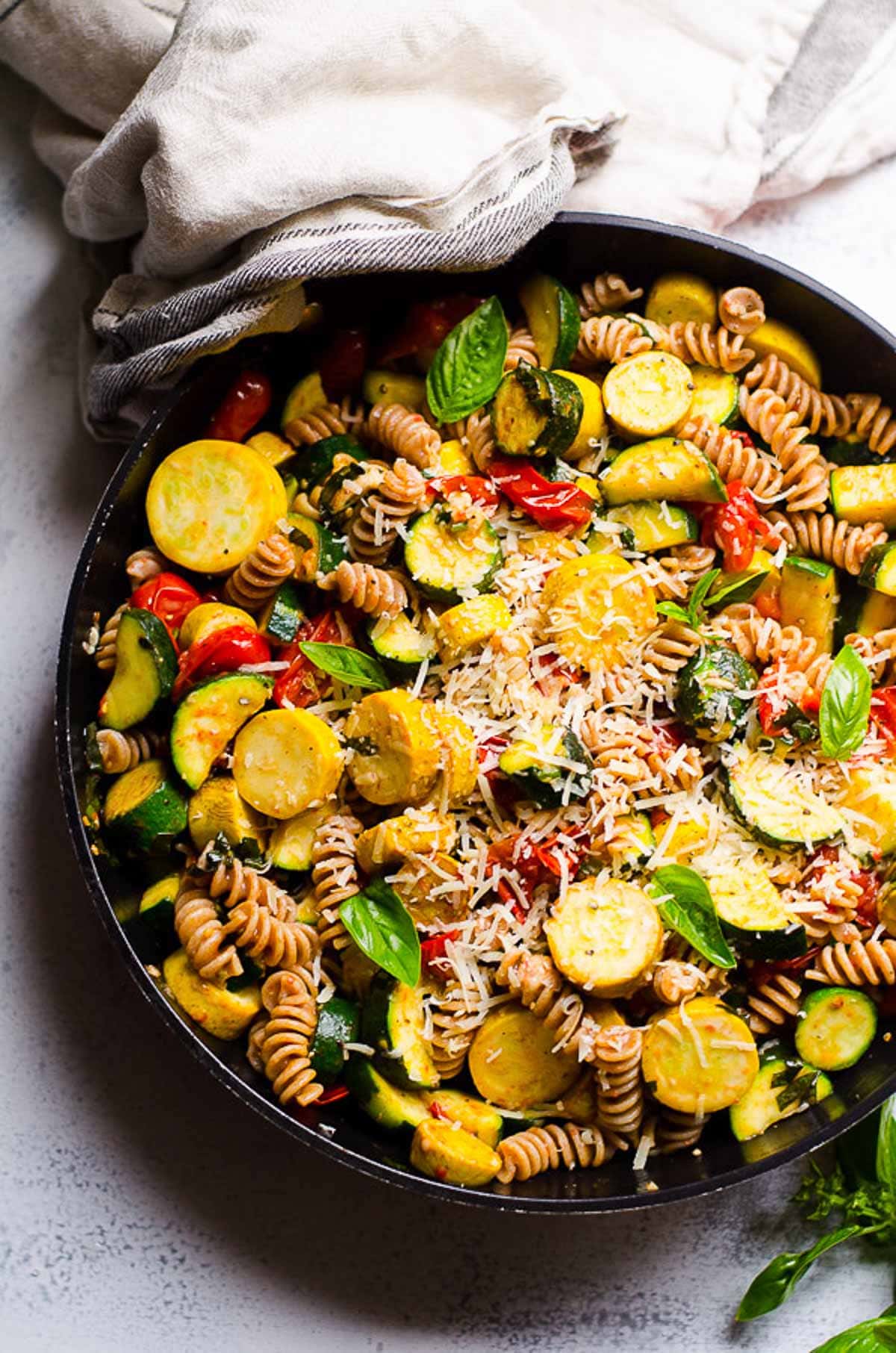 These hearty low carb Ground Turkey Zucchini Boats are stuffed with a simple Bolognese style filling, topped with cheese, then baked until tender with a bubbling cheesy topping.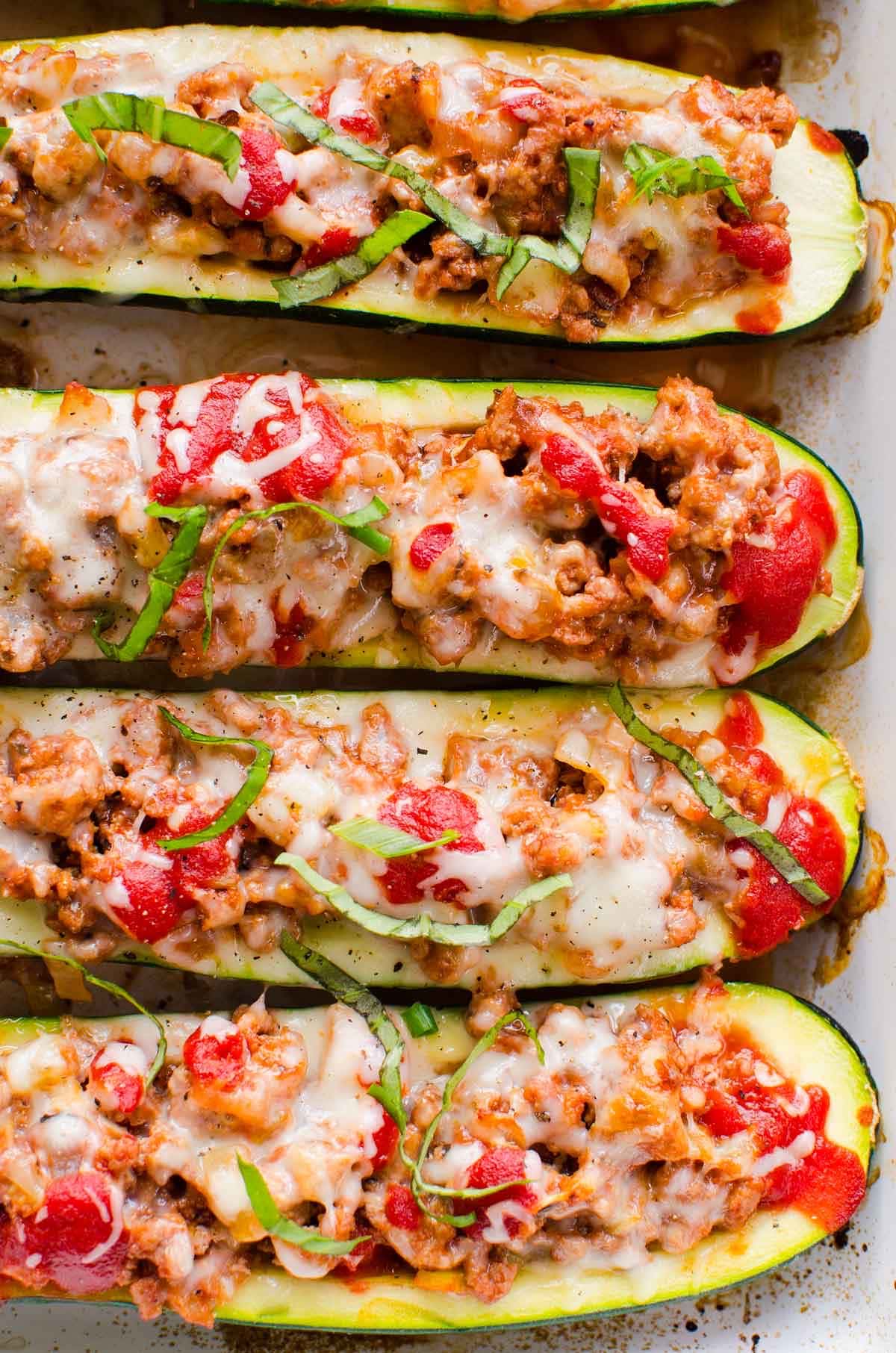 Tex Mex Rice and Beans is a 30 minute one pot easy and healthy Mexican rice with zucchini, brown rice, black beans, corn, diced tomatoes and spices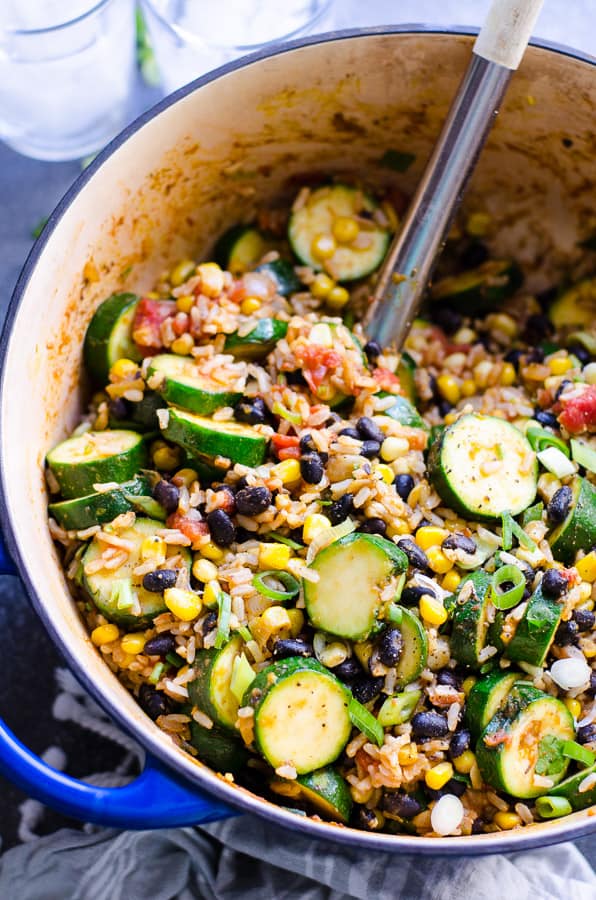 Tuna Zucchini Fritters for a 30 minute kid friendly healthy recipe with canned tuna, Parmesan cheese and a hefty dose of vegetables.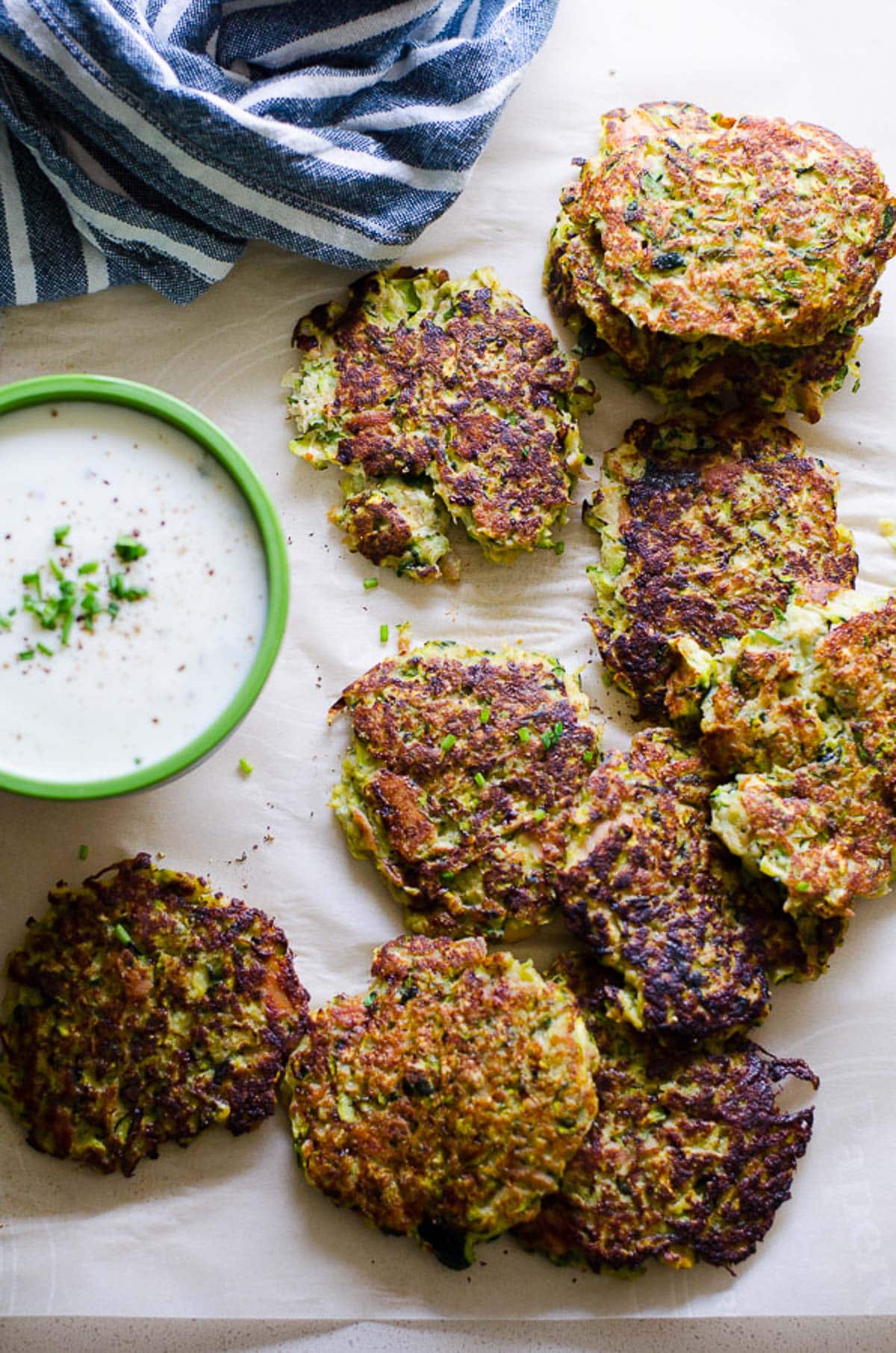 Pad Thai Zucchini Noodles recipe with zucchini pasta, healthy peanut sauce, shrimp or tofu and half amount of calories in under 20 minutes.
Melt in your mouth Zucchini Quiche without the crust. Tastes so good cold! Simple ingredients like eggs, zucchini and flour make it an easy quiche recipe to whip up any time life gives you zucchini.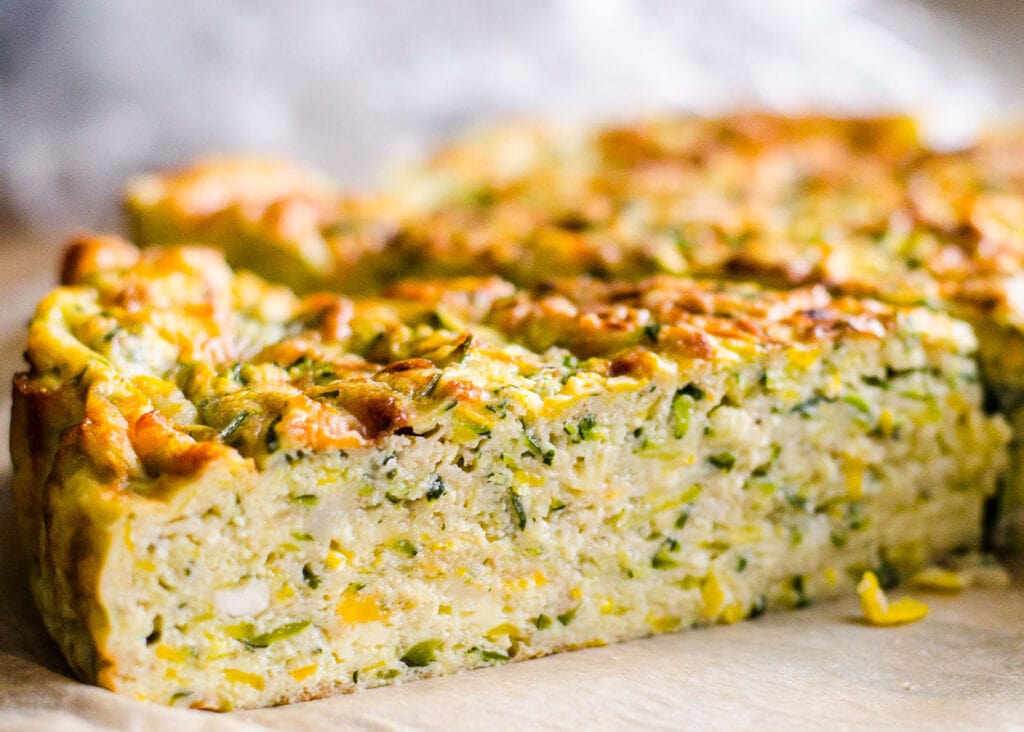 Juicy and flavorful Turkey Burger recipe with 5 simple ingredients. And one secret ingredient (hint: it's also called courgette!) holds turkey burgers together without the breadcrumbs.
Easy Crustless Zucchini Pie recipe made with 7 simple ingredients including sweet summer zucchinis. This light and creamy pie is perfect for breakfast, brunch, or dinner!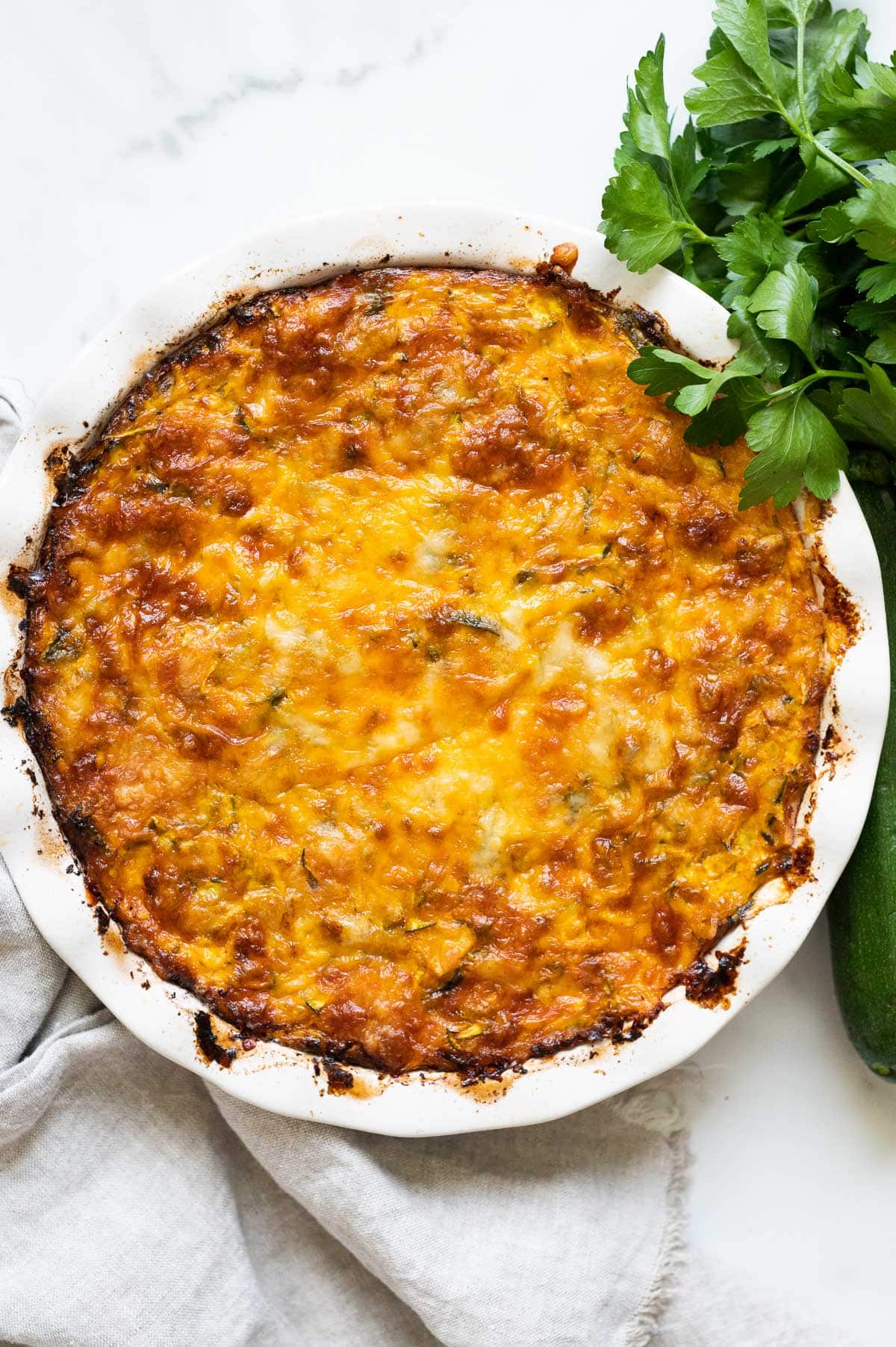 Served over fiber rich brown rice, your family will gobble up these Beef, Rice and Vegetable Bowls! Featuring lean ground beef, pepper, zucchini, eggplant and an Asian inspired sauce, these sweet and spicy bowls hit the spot.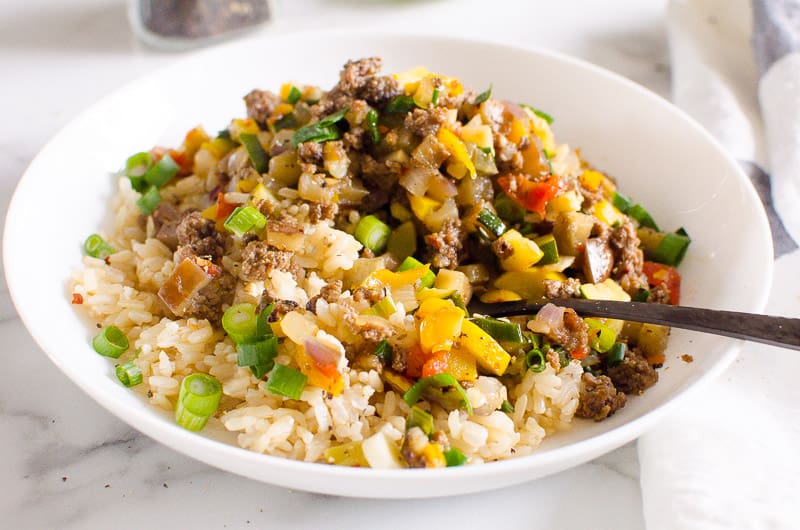 Hearty and filling Minestrone Soup is full of garden bounty including zucchini, green beans, carrots and kale! Simmered in a tomato broth this herb filled, aromatic soup will be a dinnertime winner.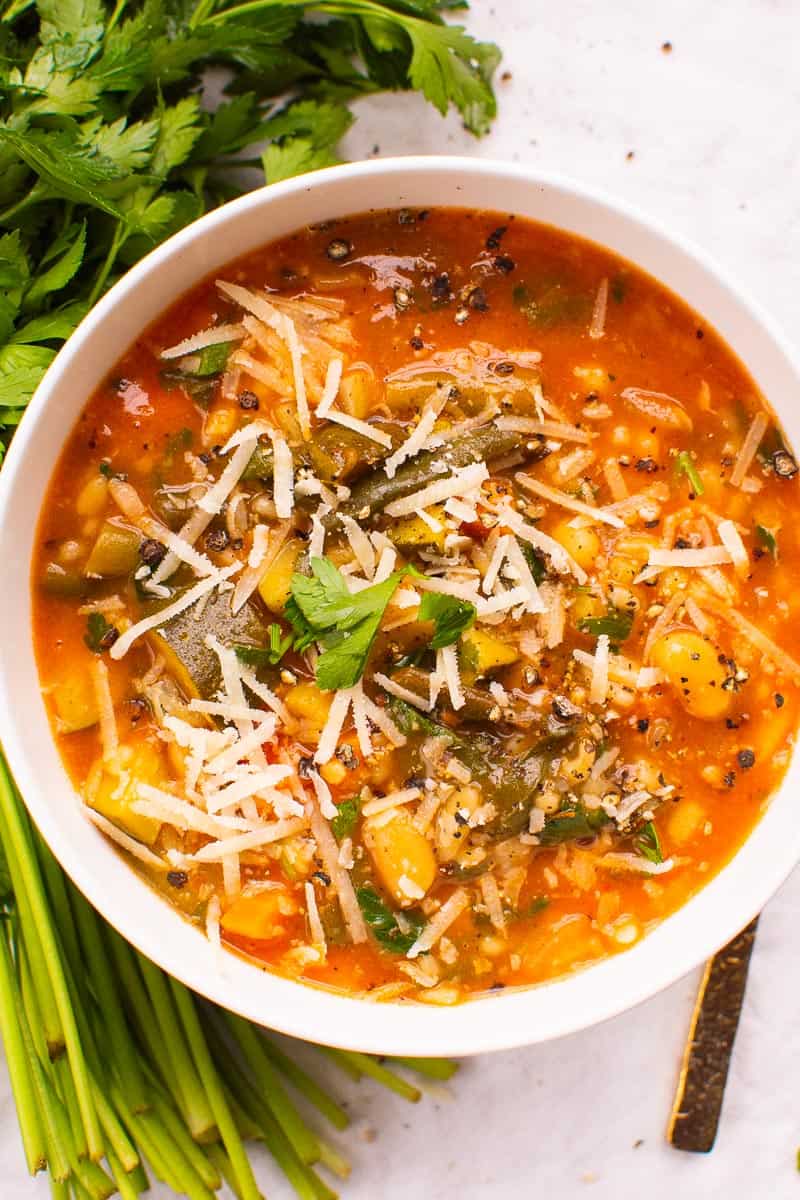 A tasty way to get your veggies in! Loaded Vegetable Soup has zucchini, pepper , onion, corn, potatoes, carrots and celery that are simmered in a smoky tomato sauce that is mmmm, mmmm good!
Zucchini Side Dishes
Baked Parmesan Zucchini are a baked zucchini recipe that is not only healthy but big on flavor, yet still low calorie and outrageously tasty. Slices of zucchini baked until crispy and cheese melted on top with simple spices.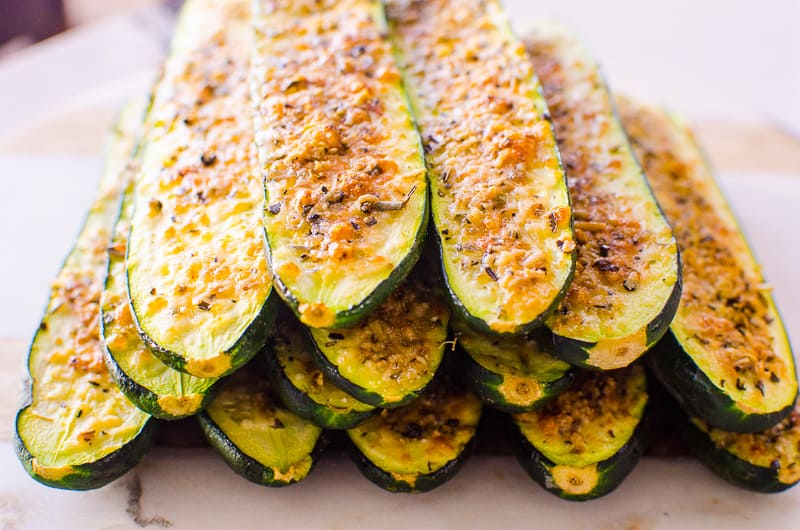 Zucchini Fritters with crispy outside, soft inside and only 5 ingredients. They are perfect for summer zucchini surplus and will disappear at the table.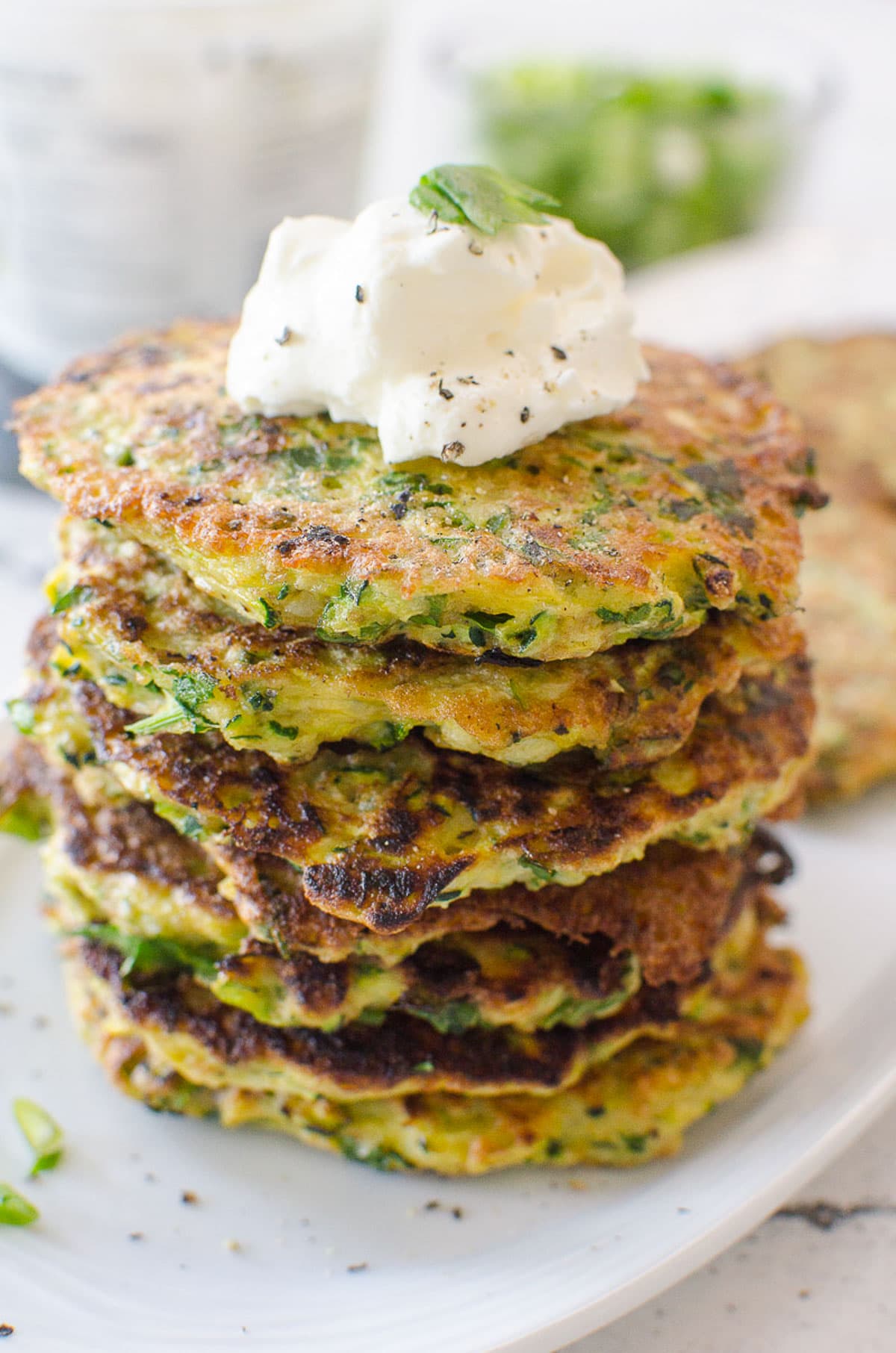 Cheesy Cauliflower Rice recipe with riced cauliflower, garlic and shredded zucchini for an extra vegetable boost. Easy, low carb and compliment just about any main dish.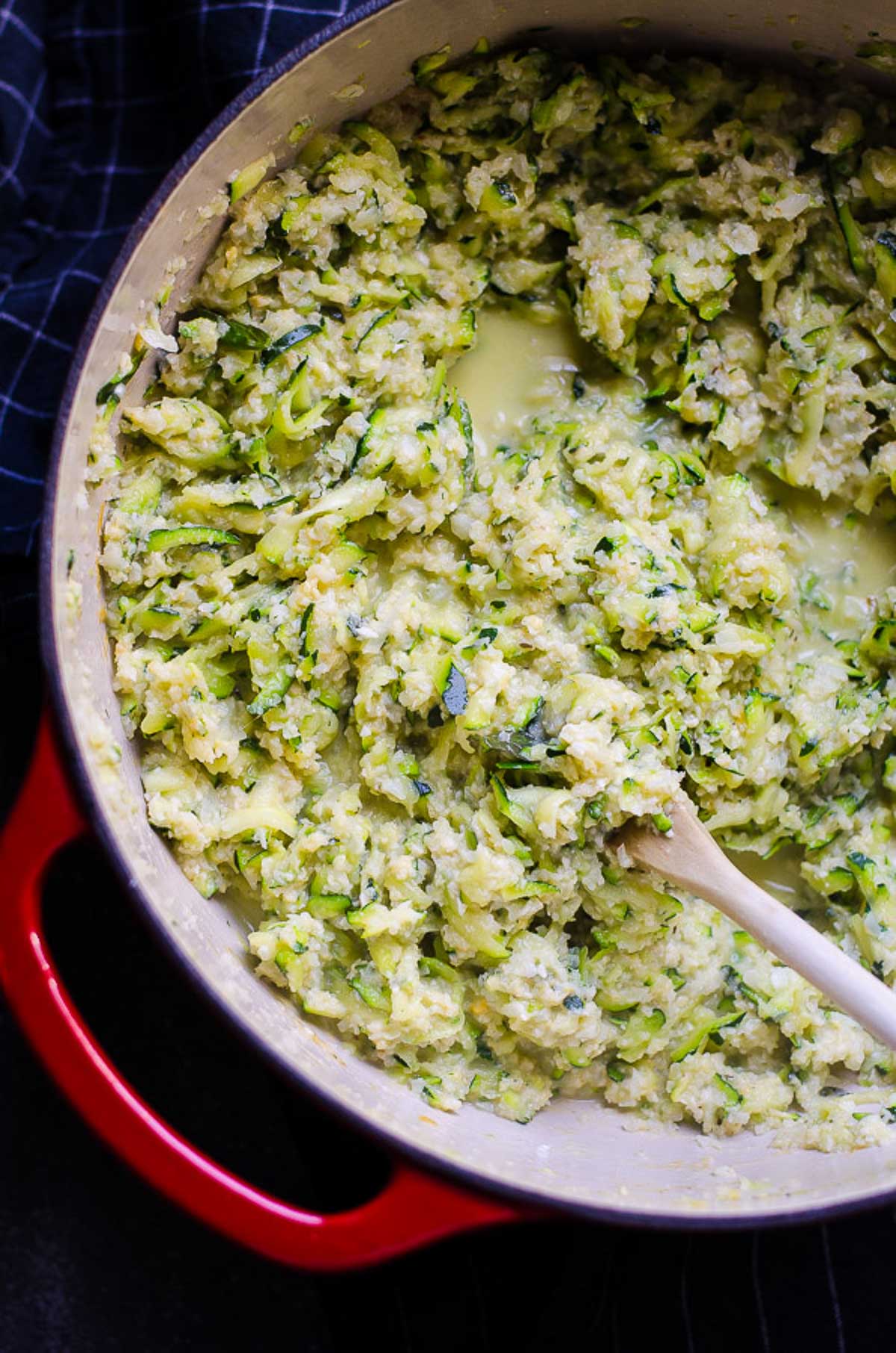 Cheesy Healthy Zucchini Casserole uses 3 lbs of zucchini and is so easy, quick and low carb. So much flavor from garlic, herbs and Parmesan cheese. So much yum in this baked zucchini recipe that is a healthy summertime favorite.
Healthy Zucchini Tomato Casserole with garlic and Parmesan in 5 minutes of prep. Serve as low carb side dish or add cooked chicken for a 30 minute dinner.
I could talk about this Sauteed Zucchini for days! Talking points would include how they take 5 minutes, how simple are the ingredients, how tasty it is and best of all how healthy they are. But don't trust my words. Try for yourself!
Grilled Zucchini with garlic, olive oil, salt and pepper is our Ukrainian-Russian family recipe. We grill zucchini along with any meat all summer long.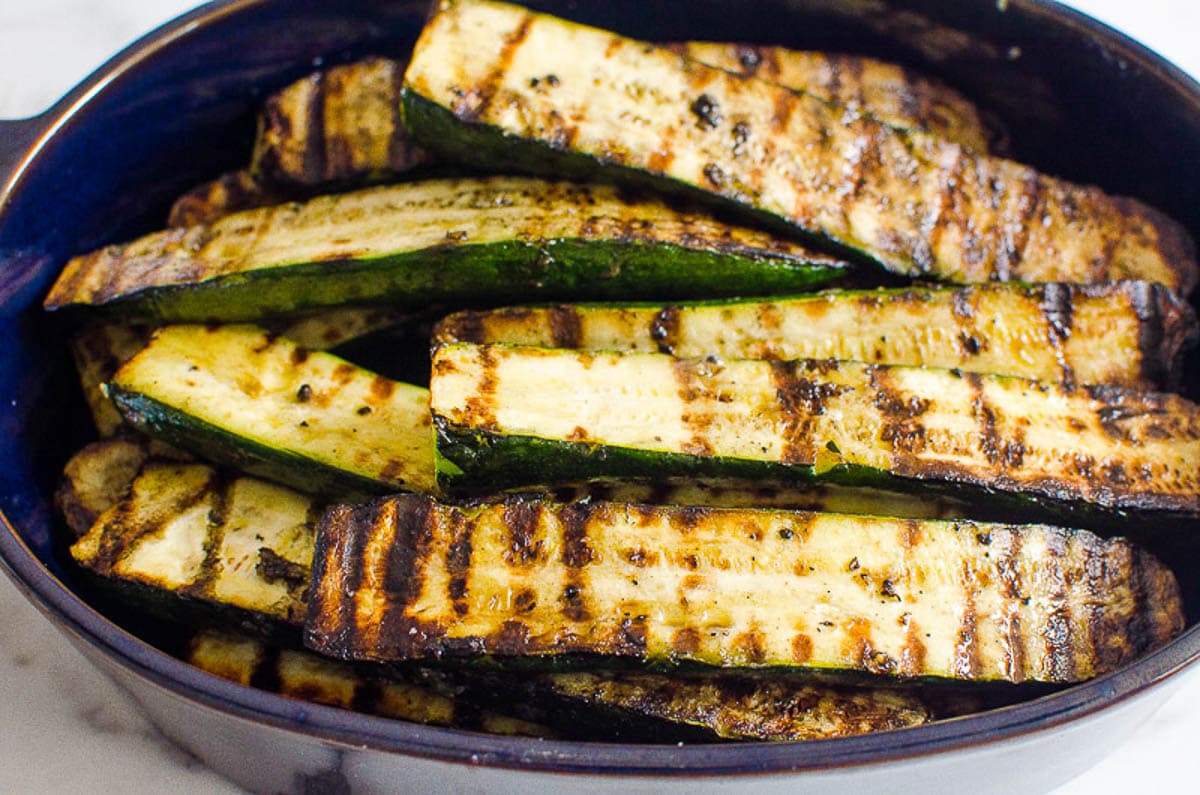 This healthy Zucchini Potato Bake is inspired by my Ukrainian upbringing. It is chock full of vegetables, contains no whipping cream and just the right amount of cheese and lots of flavour!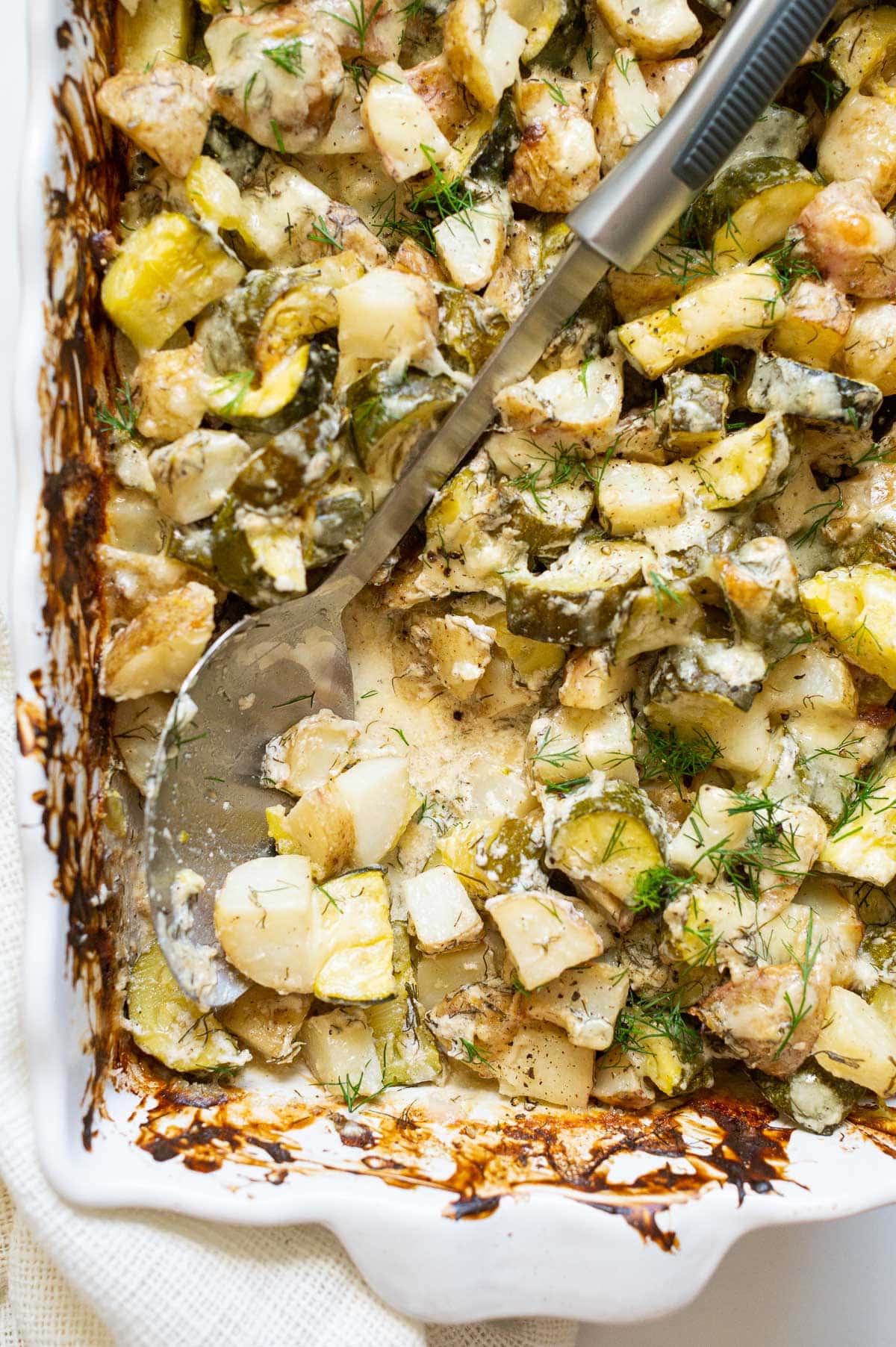 Mediterranean Zucchini Boats recipe are crunchy oven roasted zucchini with feta cheese, fresh parsley and no breading.
A summertime grilling favorite! The best balsamic Marinade for Grilled Vegetables includes grilled zucchini, bell pepper and red onion and then tosses them with a tangy balsamic vinaigrette and fresh parsley for a side dish that will disappear in a flash.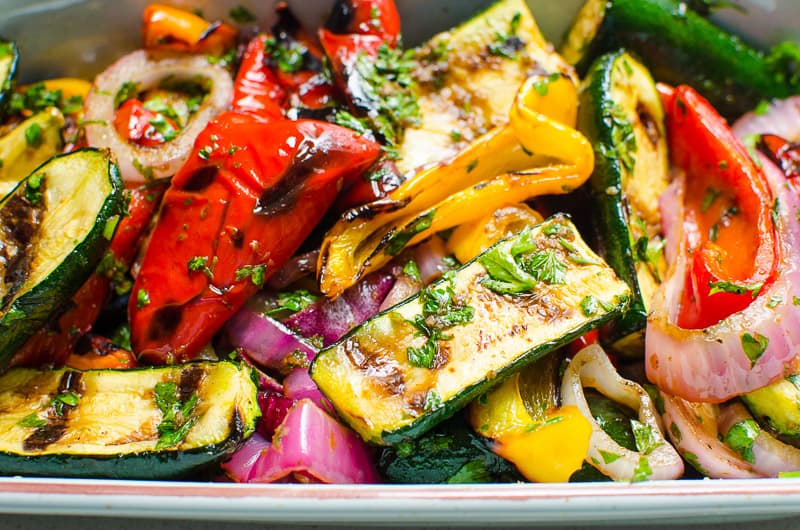 Dessert Zucchini Recipes
Healthy Zucchini Bread with applesauce, whole wheat flour, cinnamon that is low sugar and low fat. Super delicious, easy and moist recipe.
Healthy Banana Zucchini Muffins made healthy with whole wheat flour, maple syrup and chocolate bar chunks. Moist and tasty with very little oil.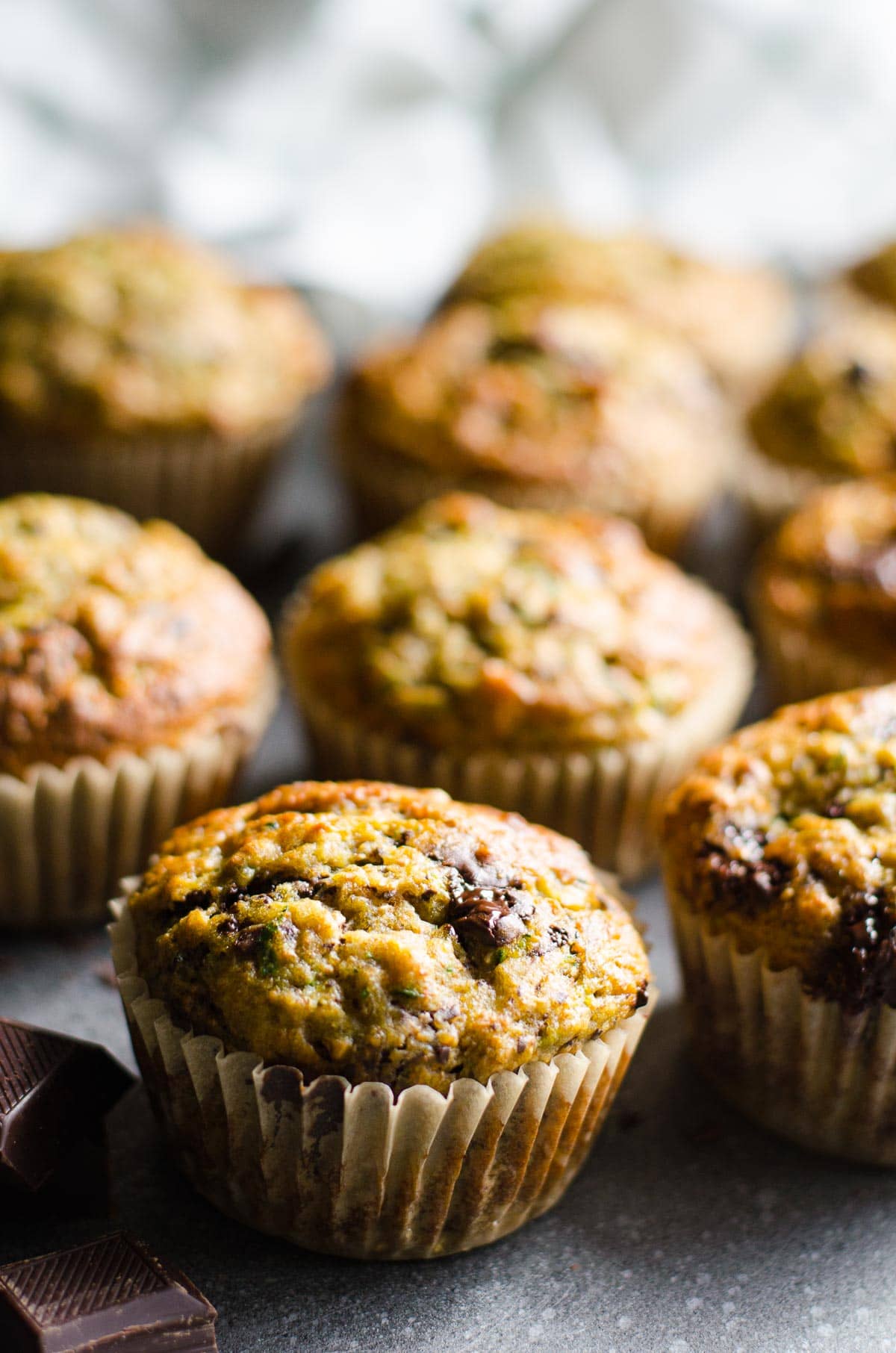 Almond Flour Zucchini Muffins are moist, light and a delicious way to use your fresh summer zucchini! Naturally sweetened and naturally gluten free, these muffins are perfect for breakfast or snack.
Healthy Lemon Zucchini Bread that is super moist, lemon-y, sweet and so soft. It will blow your mind! Great for dessert and healthy enough for breakfast or snack. You may also love this healthy lemon poppy seed bread.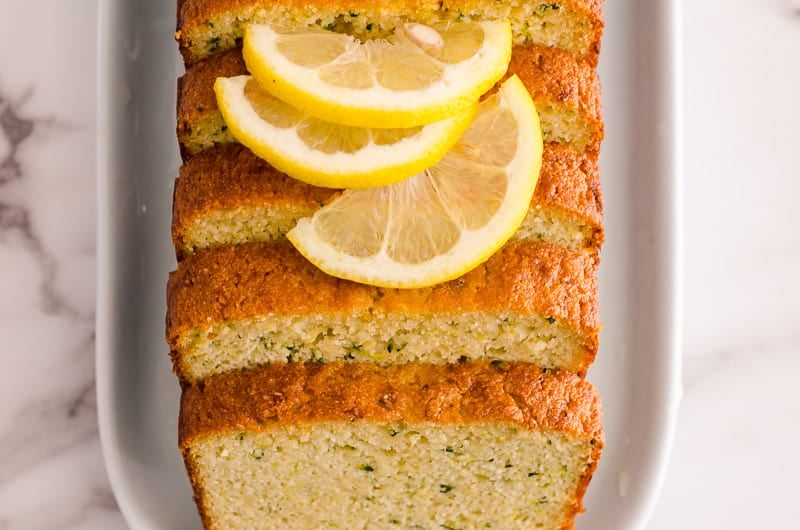 Healthy Chocolate Zucchini Bread with simple wholesome ingredients in one bowl. Easy, moist and double chocolate quick bread with sneaky veggies.
Chocolate Zucchini Muffins are moist, fudgy, loaded with zucchini and double chocolate flavor. They make a delicious quick breakfast or snack!
Healthy Zucchini Banana Bread is easy quick bread perfect for summer baking. Moistened and sweetened with fruit and veggies, it is a hybrid of two favorite breads with virtually no oil.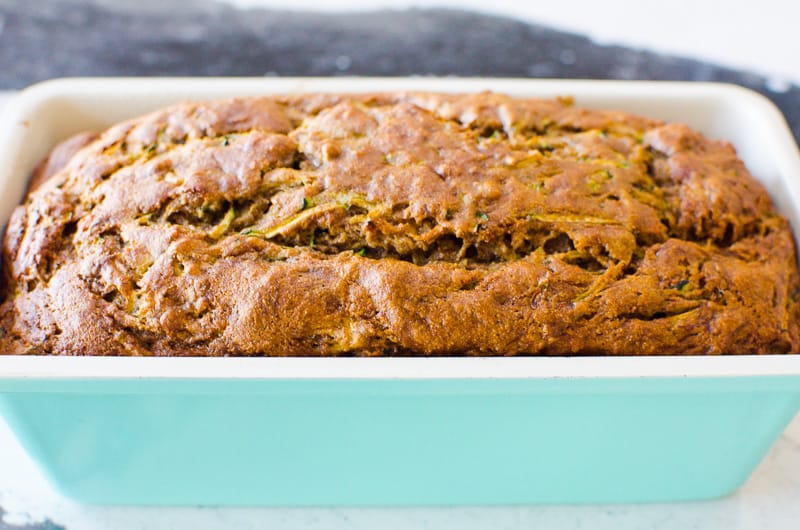 A cake like bread that is gluten free and perfectly moist! This Almond Flour Zucchini Bread will be a hit with your family who will ask for it on repeat.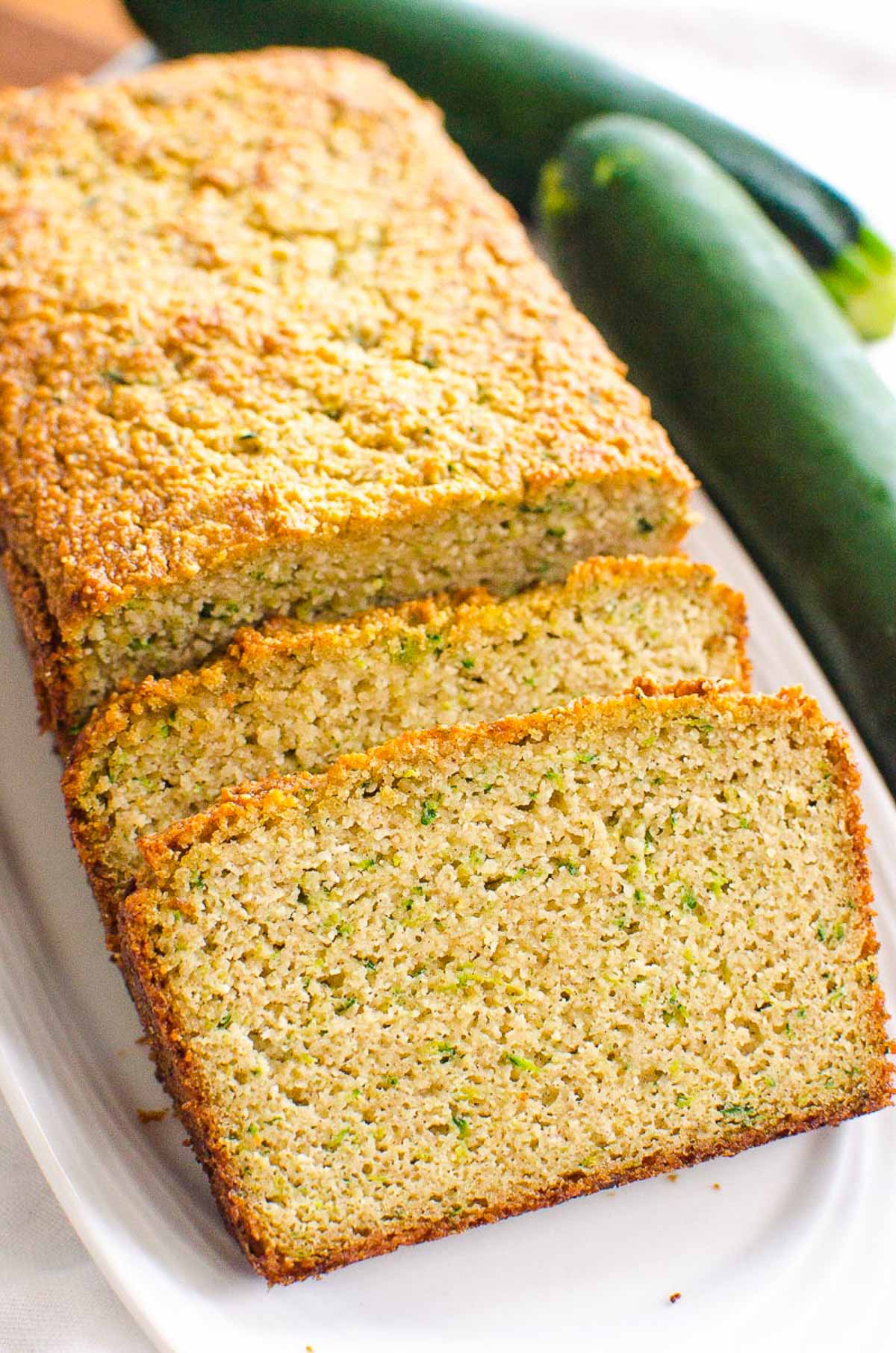 Healthy Zucchini Muffins with applesauce. Use whole wheat or spelt or even gluten free all purpose. Moist and fluffy and a hit not only during the summer but year round.
Zucchini Brownies are easy, fudgy and healthy. Kids will eat them up and not even realize they are eating a vegetable. Taste even better next day.
Zucchini Chocolate Chip Muffins are light, fluffy, and moist. Shredded zucchini and chocolate chips are packed into a delicious muffin the entire family will love!
Tips for Cooking with Zucchini
Types of zucchini: You can use green zucchini or yellow squash, large or small zucchini in these zucchini recipes interchangeably.
Don't overcook: Zucchini consists of over 90% water by weight. Follow the recipe and stop cooking squash when it's still firm and might appear undercooked.
Large garden zucchini: If the recipe is calling for a small-medium zucchini, cut a large zucchini in half. Slice it into 2-inch rounds on the angle.
Freezing: Zucchini doesn't freeze well because of the high water content. The only way I would recommend is to freeze cubed or grated zucchini and then use it in soups and baking later on.
Cooking methods: When baking or grilling sliced rounds, you want to make sure they are cut thick enough in uniform sizes, to cook evenly and not become soggy.
Zucchini skin: No need to peel zucchini, even when you're baking with it. Zucchini skin is edible and easily digestible and comes with a lot of nutrients. Just make sure you wash it first!
Storing and Reheating Zucchini Recipes
The beauty of these zucchini recipes is they come with all of the information you could possibly need! Depending on the recipe, you will be given specific storage suggestions based on whatever it is.
Some will let you know to only store in the fridge for a couple of days, while others will let you know it can be made ahead for meal prep or freezes very well.
You will find instructions at the bottom of each recipe and when in doubt feel free to leave me a question in the comment section and I will get back to you with an answer.
More FAQs
Is zucchini healthy?
According to Healthline, zucchini is a superfood full of antioxidants as well as vitamins A (improves eye health) and C (boosts immune system and guards against asthma), fibre (lowers cholesterol), and potassium (lowers blood pressure).
What is the healthiest way to eat zucchini?
Zucchini itself is healthy, so you want to keep it as close to its natural state as possible for optimum nutrients. Bringing out its natural flavors without overpowering with unhealthy ingredients is the best way to enjoy it.

You can steam, bake, roast, or grill zucchini. And depending on how high the heat is, or how long it's cooked, will determine how much of its nutrients are lost.
Do you eat zucchini with the skin on or off?
Usually you eat zucchini with the skin on that's full of nutrients. It's also soft and very thin, so definitely keep it on. Zucchini contains a lot of water, so in some cases, the skin serves a purpose of keeping everything intact and not falling apart while it cooks.
Why is my zucchini always mushy?
If you always end up with mushy zucchini dish it is because you are over cooking it. Stop cooking zucchini before it looks ready, remove from heat even if the burner is off and always follow the recipe for best results.
I hope you enjoy these healthy zucchini recipes as much as I do! Let me know which ones you try by rating them in the comment section below.
More Healthy Recipes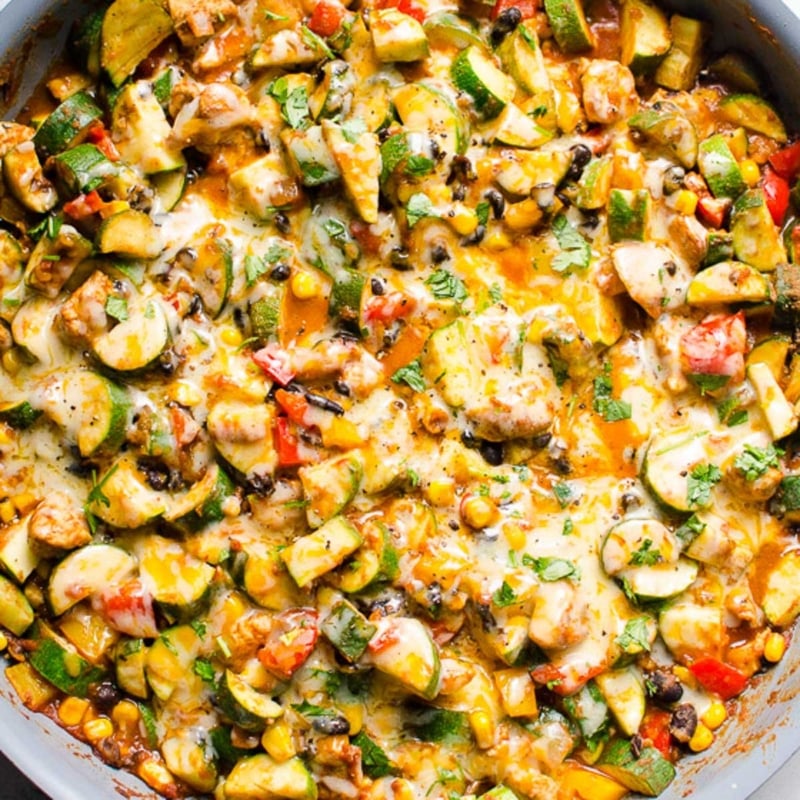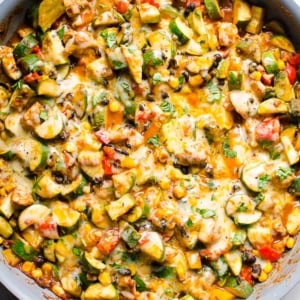 45 Healthy Zucchini Recipes: Tex Mex Chicken and Zucchini
One of our most popular healthy zucchini recipes! Chicken, zucchini, black beans and corn seasoned with fresh herbs under blanket of gooey cheese and cooked in one skillet.
Instructions
Preheat large ceramic non-stick skillet on medium heat and swirl oil to heat. Add onion, garlic and bell pepper and saute for 3 minutes, stirring occasionally.

Push vegetables to one side of the skillet. Add chicken and sprinkle with 1 tsp cumin, salt and pepper. Cook for 5 minutes, stirring occasionally.

Add corn, black beans, tomatoes, zucchini, taco seasoning and remaining cumin. Stir well, cover with a lid and cook for 10 minutes on low-medium heat.
Notes
Store:

Refrigerate in

an airtight container

for 3-4 days. Do not freeze.

To Reheat:

Simmer on low heat in covered skillet for 5 minutes. No additional water or oil is needed to reheat if you use a non-stick skillet.

Do not over cook the zucchini. Zucchini is comprised of 95% water. The longer you cook zucchini, the more water it releases. Follow the recipe and cooking times and do NOT cook until the zucchini appears soft and cooked (or your dinner will be mushy).
Nutrition
Calories:
342
kcal
|
Carbohydrates:
23
g
|
Protein:
25
g
|
Fat:
12
g
|
Saturated Fat:
5
g
|
Cholesterol:
68
mg
|
Sodium:
712
mg
|
Fiber:
6
g
|
Sugar:
9
g