The best collection of 120 Quick Healthy Dinner Ideas with simple ingredients and ready in 30ish minutes. If you need easy, quick healthy meals for dinner tonight that are comforting and delicious, you have come to the right place.
Dinnertime doesn't have to be stressful with these 120 quick healthy dinner ideas! They are perfect for busy weeknights.
I know your struggle, I can help you! I don't like "What's for dinner?" question too. During the last 12 years of running this website, I have put a lot of effort in testing and creating healthy dinner recipes you can feed your family.
Bookmark this link for "Shoot, what's for dinner?" moments. These easy healthy dinner recipes will rescue you!
Quick Healthy Dinner Ideas (Easy Recipes)
This is the best collection of quick healthy dinner recipes on the web. Think one pot meals, quick stir fry and curry recipes, and everyone's favorite hand held foods like tacos and quesadillas all packed with healthy ingredients and a ton of flavor.
You can even save or print some of your favorite quick healthy dinner ideas, so you always have easy access when you are running out of inspiration.
Healthy Chicken Recipes
Healthy chicken dinners are our go-to with chicken breast being a favorite!
If you need complete healthy meal ideas for your cooked chicken, I usually serve it with a side of quinoa, brown rice, buckwheat or mashed potatoes, and a basic salad. Easy!
You may also love this list of healthy chicken recipes.
This Oven Baked Chicken Breast is so easy to make with just 5 minutes of prep. Simple seasonings transform healthy chicken into a juicy and delicious healthy meal! Serve with a side of grain and salad.
Learn how to make the juiciest Air Fryer Chicken Breast in 25 minutes. It is easy, tender and bursting with flavor! It is one of the most popular easy healthy dinner ideas on our website.
I like to serve it with a tasty side like this sauteed butternut squash.
Need quick healthy dinner entire family and even your kids' friends love? This Healthy White Chicken Chili is the one. It is a true 30 minute meal made simply with chicken breast, white beans, corn, cumin and yogurt. Make on the stove or in your crockpot. A true crowd pleaser!
Mouthwatering 30 minute Baked Honey Garlic Chicken Breast is made with a simple sweet and tangy honey garlic sauce. It's a restaurant quality weeknight dinner that will become your new favorite!
One pan Chicken with Tomatoes combines tender chicken breast with sauteed juicy tomatoes, garlic, and herbs. Ready in 30 minutes and perfect for an easy weeknight dinner!
This Healthy Lemon Chicken is coated in almond flour, fried until crispy, then drizzled with the best lemon butter sauce. It is a delicious meal with many layers of flavors that is easy to make and yet looks impressive!
This Cajun Chicken can be baked, pan fried or grilled. Lean chicken breast coated in easy homemade cajun seasoning for a healthy dinner with a lot of flavor. This simple recipe requires minimal effort and perfect for when you are in a dinner rut.
30 Minute Healthy Chicken Lettuce Wraps with chicken cooked in tasty savory sauce and loaded up on crispy lettuce leaves. This is one of the best healthy dinner ideas!
Enjoy this homemade Healthy Chicken Alfredo in under 30 minutes. This healthy meal is creamy, rich, and cheesy with just a fraction of the calories and fat in restaurant versions! Make it with whole wheat noodles and veggies for an instant family favorite!
Creamy Chicken Spinach Pasta made with tender chicken, pasta, and fresh baby spinach! With a touch of pesto, this flavorful and comforting dinner recipe can be on the table in only 30 minutes.
This Pesto Chicken is juicy, delicious and is ready in 25 minutes. It's a simple recipe that tastes amazing, goes well with most sides, and is perfect for busy weeknights.
Creamy Lemon Chicken Pasta Recipe with tender, juicy chicken breast, pasta and light, flavorful lemon garlic sauce.
Lemon Garlic Chicken with tender, juicy chicken topped with a creamy lemon garlic sauce and completely ready in 35 minutes!
Lemon Pepper Chicken Recipe made with juicy chicken coated in a rich, buttery sauce with a refreshing burst of lemon. This easy chicken recipe is ready in 35 minutes!
Mouth-watering Baked BBQ Chicken Breast Recipe is made with 6 simple ingredients, smothered in BBQ sauce and then baked.
Easy Pan Fried Chicken Breast recipe is juicy, with golden seasoned crust outside coated in delicious pan sauce.
Garlic Butter Chicken Breast is tender, juicy chicken cooked in flavorful garlic butter sauce in just 30 minutes. Perfect for weeknight dinners!
Delicious Thai Chicken Butternut Squash Soup is loaded with tender chicken and Thai flavors of coconut milk, peanuts, lime and cilantro. It's creamy and velvety yet dairy free!
Healthy Tacos & Burritos
Who doesn't love anything tacos, quesadillas and burritos?! This type of quick healthy dinner is always a hit with kids and adults alike.
Healthy meals that are loaded with veggies, protein and then wrapped in whole wheat or corn tortillas is a win in this mom's book. Using brown rice adds complex carbs and using low sodium canned goods makes these healthy dinners super fast.
These Mexican inspired 20 minute Chicken Tostadas are one of our reader favorite quick healthy dinner ideas. Made with crazy easy and crispy homemade baked tortilla shells, then topped with shredded chicken, black beans, avocado and crumbled cheese. It's a quick delicious dinner with basic ingredients.
Another reader favorite healthy meal is this 15 Minute Shrimp Tacos Recipe! It makes easy weeknight meal or last minute entertaining a breeze. Spicy juicy shrimp topped with creamy cilantro lime slaw and wrapped in warm corn tortilla, these shrimp tacos have the best taste and texture. And so much flavor!
The Best Healthy Fish Tacos with spicy crispy battered fish, diced avocado, crunchy cabbage, and lime crema sauce. I promise, this quick healthy dinner is better than any food truck!
Healthy 30 minute Ground Chicken Tacos are perfect for busy weeknights! A low sodium sauce packed with southwest spices keeps meat moist, while fresh vegetables add flavor and all made in just one skillet.
These Ground Turkey Tacos are saucy, flavorful and oh so easy in 30 minutes. Even if you are more of a ground beef tacos family, everyone will ask you to make this recipe again and again! Add this recipe to your regular rotation of quick healthy dinners that don't disappoint.
Make these Buffalo Chicken Tacos smothered in Frank's red hot sauce and drizzled with homemade healthy blue cheese Greek yogurt sauce. This delicious meal is to die for!
This cheesy Chicken Quesadilla is not only healthy, but easy to prepare! Flavorful chicken and veggies are stuffed into a tortilla then oven baked for a quick healthy meal that will be a new family favorite.
Vegetarian Quesadilla with black beans, veggies and a moderate amount of cheese tucked inside a whole wheat tortilla and then baked. They are full of plant-based protein and cheesy goodness. You can even turn this into healthy freezer meal for busy weeknights. Definitely one of easy healthy dinners ideas to add to your meal prep routine.
Chicken Burrito Recipe for busy people! Meal prep 17 chicken burritos in an hour in Instant Pot or on the stove, then freeze for later. Or turn this recipe into a chicken burrito bowl for quick healthy meals on busy weeknights.
It is not a true 30 minute meal but it is so good and one of the most popular quick healthy dinner ideas among our audience. So it's worth mentioning.
Make chicken tacos in Instant Pot in 30 minutes! Perfectly juicy, tender and flavorful Instant Pot Shredded Chicken Tacos are made with only 3 ingredients!
Easy Bang Bang Shrimp Tacos are creamy, sweet, spicy, and healthier than the Bonefish grill classic.
These Ground Beef Tacos are made with perfectly seasoned meat in a crunchy corn shell and topped with all the fixings.
Healthy Skillets
Skillets make the best healthy dinners! You throw everything together and adjust the taste as you go.
This type of healthy dinner recipe is so hard to screw up. Skillets are great for beginner cooks. And I also love that many can be made low carb with lots of veggies, but also can be served with a grain.
I like to use ceramic non-stick PFOA free skillets and prefer a larger 12″ wide with deep edges. My Green Pan has lasted well beyond 1-2 years. A dutch oven works well, too!
One pan 30 minute Mexican Chicken and Zucchini Recipe with black beans, corn, tomatoes and melted cheese on top. Healthy meals like this simple recipe, require a bit of chopping but once you do it a few times, the prep will go very quick. Don't be intimidated, give it a try!
This Teriyaki Chicken and Cauliflower combines tender chicken, crispy cauliflower, and sweet and sticky teriyaki sauce. When you don't have dinner plans but have a head of cauliflower and a pack of chicken breasts or chicken thighs, you make this healthy dinner recipe.
Garlic Chicken and Corn Recipe is a 20 minute low carb dinner that was inspired by my Ukrainian roots. Healthy, easy and one pan delicious corn chicken!
Meatless Healthy Mushroom Stroganoff is ready in 30 minutes! This hearty vegetarian recipe with mushrooms, pasta and creamy sauce is lower in calories and fat, carnivore approved and is one of the best comfort foods.
One Pan Mexican Chicken and Rice is one of the best easy dinner ideas made with pantry staples. Rice and chicken breasts are simmered in salsa broth, then finished with gooey cheese and served with avocado.
Taco Skillet is everything you love about tacos in one pan and covers all food groups. Easy Mexican food you can make exactly the way your family likes it. Perfect for quick healthy dinners when you are super busy!
Caprese Chicken and Zucchini cooked in fresh tomato sauce, with melted buffalo mozzarella cheese on top and garnished with basil. Serve on its own for easy low carb weeknight dinner or with spaghetti as a complete healthy meal for your family.
This Low Carb Ground Turkey and Zucchini Skillet with pesto is delicious 30 minute one pot meal. Minimum ingredients and effort with maximum flavor, makes this one of the most favorite easy healthy dinner ideas on iFoodReal.
Turn that craving for carbs into a yummy pasta dish with this Healthy Pasta recipe! Ready in just over 30 minutes this pasta dinner recipe is bursting with flavor from pesto, sun-dried tomatoes, broccoli and Parmesan cheese.
Creamy Lemon Chicken and Asparagus is a 30 minute one pan meal! Juicy chicken and tender asparagus swim in creamy lemon sauce for a delicious weeknight meal.
One of my personal favorite quick healthy dinner ideas is this Sweet Potato Skillet. It is loaded with seasoned potatoes, beans, peppers, and corn, simmered in juicy diced tomatoes, finished with a squirt of lime juice, and melted cheese.
This Chicken and Mushrooms Recipe is a 30 minute dinner recipe that is easy, low carb and so flavorful! Serve on its own or with your favorite side dish.
Treat yourself to a creamy Shrimp Spaghetti in less than 30 minutes! This rich, decadent shrimp pasta dish is perfect for busy weeknight or a dinner party.
Creamy Chicken Spinach Pasta made with tender chicken, pasta, and fresh baby spinach! With a touch of pesto, this flavorful and comforting dinner recipe can be on the table in only 30 minutes.
Quick Stir Fries and Curries
I don't know about you but our family loves curry and stir fry. They make for perfect healthy dinner ideas because they are usually loaded with crisp veggies which makes them super wholesome. Especially, when you make a homemade stir fry sauce to cook it in.
For proper consistency homemade thick stir fry sauce use cornstarch and do not cover when cooking. This makes veggies leak their juices and the dish watery. Spices like curry powder, chili powder, and cumin need to be fresh for the most flavor.
You can eat stir fry on its own for a low carb meal or with a side dish that is full of complex carbohydrates. Quick easy healthy meals are possible!
This Healthy Chicken Stir Fry is loaded with veggies and chicken coated in easy sweet and savory sauce. It is one of the best quick healthy dinners that everyone will love!
Korean inspired Ground Beef and Rice Bowl are full of vegetables and Asian flavored sauce, then served over hearty brown rice or go low carb with cauliflower rice. This weeknight healthy dinner recipe is customizable and will have your family going for seconds!
Low carb Mexican Cauliflower Rice is made with ground turkey, lots of veggies and simple seasonings. It is easy, flavorful and filling. I am loving this recipe for a weeknight dinner!
20 minute Salmon Stir Fry is low carb meal made with chunks of juicy salmon, crisp green beans, and earthy mushrooms. Then coated in flavors such as lemon juice, garlic, ginger, and soy sauce. This dish is perfect candidate for quick healthy dinner ideas.
Enjoy this creamy, rich, and aromatic Thai Chicken Curry at home with just one pan, simple ingredients, and in under 30 minutes. It's great for a simple, flavorful mid-week meal or to impress guests!
This Yellow Chicken Curry will be the best you have ever tried. Once you try the juicy pieces of chicken simmering in a robust and flavorful sauce made with coconut milk, yellow curry powder, and other aromatics, you'll see why!
Chicken and Broccoli Stir Fry Recipe is a simple 30 minute healthy meal made so easy with lean chicken breast and crispy tender broccoli. Then coated in a sweet and tangy sauce your whole family will love! Perfect for easy healthy weeknight dinners!
Cauliflower Fried Rice is tasty low carb dish even your kids will think it is real fried rice. You can keep it vegetarian or add your favorite protein. It is one of my boys' favorites on this list of easy dinner ideas. And I love how much veggies they are eating in one sitting.
Peanut Chicken Soba Noodles with bell peppers, kale and delicious sauce. Another true 30 minute meal your family will actually eat.
This Beef Stir Fry is loaded with juicy beef and crispy vegetables coated in a easy and healthy sauce. It's an easy meal of a restaurant-quality!
This Shrimp and Vegetable Stir Fry is easy, healthy, low carb, and combines your choice of mixed vegetables with a simple, aromatic honey garlic sauce! This recipe proves healthy dinners can be easy.
Easy to make Healthy Beef and Broccoli stir-fry is veggie packed with tender slices of beef then coated in a low sodium, low sugar flavorful sticky sauce. This is one of the healthy dinner ideas to make when you are craving your favorite Asian takeout. You just skip it and save money.
Healthy Orange Chicken is loaded with classic flavors of sweet and sticky orange sauce. Of course, as promised it comes together in 30 minutes. Serve with some brown rice and steamed broccoli. Delish!
Chicken Asparagus Stir Fry with juicy chicken, tender asparagus, and coated in a savory sauce. It's ready in 25 minutes!
One Pot Quick Healthy Dinner Ideas
These one pot and sheet pan dinners prove that healthy dinner ideas can be flavorful without washing 3 pots!
With one pan cooking it's important to figure out the right combination of foods, so pasta doesn't get mushy or meat not fully cooked. Below, are all tried and true healthy one pot meal wonders.
I own two 6 quart Lodge dutch ovens and they are worth every penny. They last forever, are affordable and cook food evenly and very-very nicely. A must for a healthy cook! Keep in mind that dark baking sheets cook faster, too.
Browse our best collection with over 45 healthy Instant Pot recipes for major one pot cooking inspiration.
Sheet Pan Steak Fajitas with tender juicy slices of beef, onions and bell peppers cooked together on a sheet pan for a quick healthy dinner. Easy and always a hit with the entire family!
Healthy Mac and Cheese swaps out copious amounts of heavy dairy for lightened up version. A dish that is still creamy and comforting, but with a portion of the fat and calories! Even better, it requires only one pot and 15 minutes to prepare.
This quick and easy Ukrainian one pot Chicken Stew is made with chicken, potatoes, and carrots simmered in a deliciously seasoned broth and garnished with fresh herbs. Enjoy with crusty bread for a savory comfort meal!
Roasted chicken thighs and potatoes, carrots and onion tossed with simple spices, garlic and olive oil. Then baked until chicken is juicy with crispy skin and onions are roasted. Delicious quick dinner I learnt to make from my mom.
One pot Tuscan Chicken Pasta recipe is creamy, cheesy, and garlicky. It is packed with Tuscan flavors with the addition of spinach, garlic, and chicken swimming in sun-dried tomato cream sauce! This is one of the true 30 minute healthy meals.
One Pot Chicken and Quinoa is loaded with broccoli, wholesome quinoa, juicy chicken and delicious flavours. Nothing is "boring" about this healthy meal and it's perfect balance of carbs, protein and fiber.
Quick 10 minute Easy Spaghetti Recipe with tomato sauce, garlic, oregano and Parmesan. It's a million dollar spaghetti on a budget and one of the best quick healthy dinners in the world!
Easy to make One Pan Chicken and Potatoes with tomatoes, garlic, and oregano and ready in 35 minutes. Finding easy healthy dinner ideas that your entire family will love actually can be hard. If that's your case, this one is it!
This super healthy One Pot Chili Mac Recipe with beer, beans, pasta, olives, spices and cheese ready in 30ish minutes. A vegetarian dish with a vegan option that doesn't skimp on the saucy cheesy goodness!
One pot Ground Turkey and Broccoli Pasta made with turkey, broccoli, tomatoes and Parmesan cheese. A healthy dinner ready in 30 minutes!
Skillet Enchiladas ready with juicy ground beef simmered in a healthy enchilada sauce then loaded with hearty beans and corn, and topped with just enough cheese to be hearty without weighing you down!
One Pot Spaghetti is quick, easy, and on your table in 30ish minutes. Amazing flavor and minimal cleanup, perfect for a busy weeknight meal!
Healthy Dinner Salads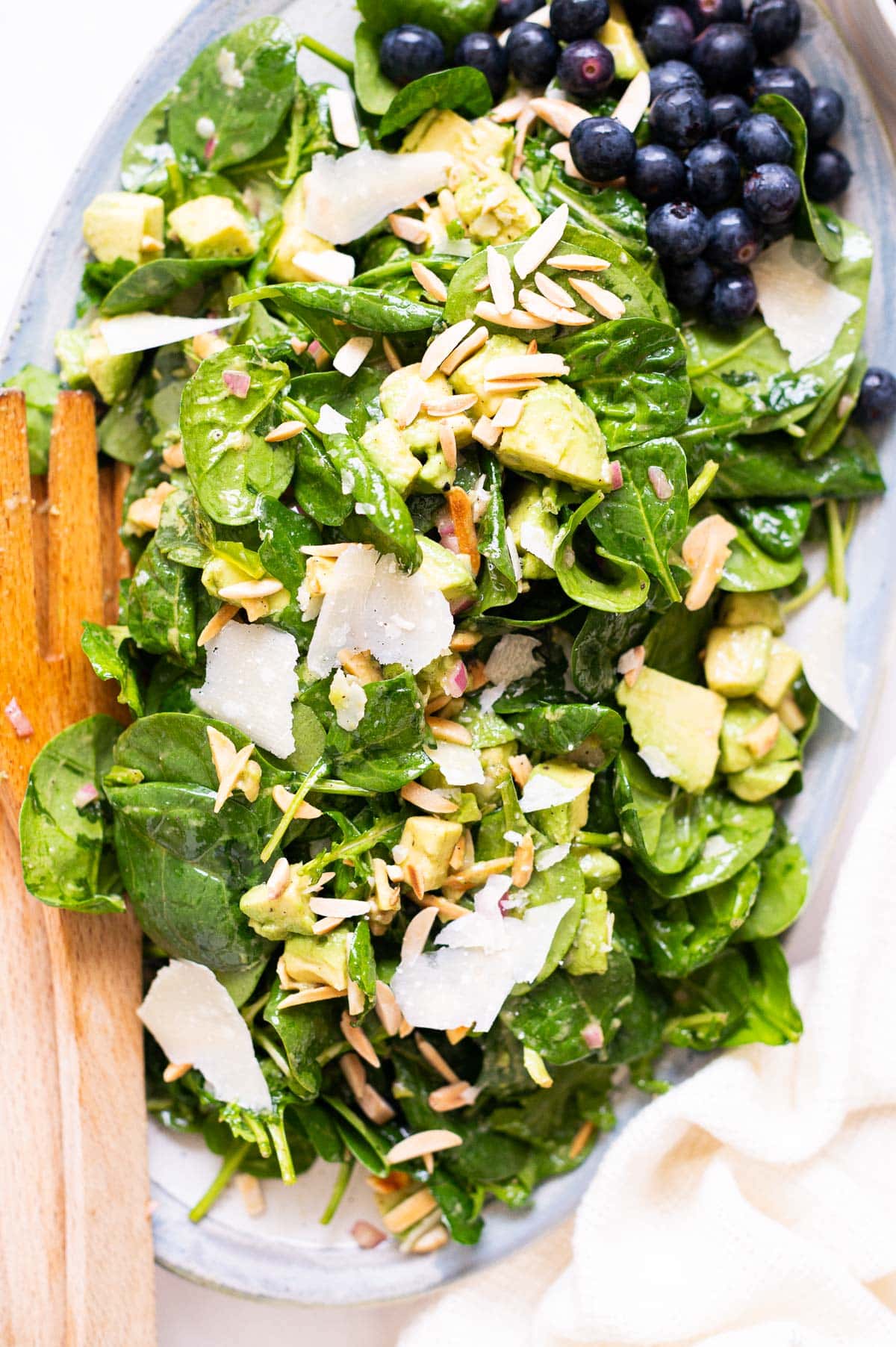 These salad recipes contain protein, complex carbohydrates and healthy fats to qualify as a complete meal for quick healthy dinner ideas.
This BBQ Chicken Salad recipe is loaded with flavor and crunch! Juicy baked BBQ chicken and creamy ranch dressing tie together vegetables for a perfect summer entrée.
Chickpea Avocado Salad with tomatoes, cucumber and Mediterranean dressing. This protein packed garbanzo bean salad takes only 15 minutes to make.
Easy White Bean Salad with Mediterranean flavors of olive oil, vinegar, garlic, herbs and red onion. Add fresh crunchy veggies and this recipe is ready in only 15 minutes for any occasion!
A 10-minute healthy Canned Salmon Salad that is creamy, crunchy, and packed with flavor. Perfect at lunch in a sandwich, wrapped in lettuce, or even enjoy it as a snack!
Easy Mediterranean Chickpea Salad Recipe with juicy vegetables, crumbled feta, fresh herbs and zesty lemon vinaigrette. You will love this 15 minute healthy Mediterranean salad recipe!
This 15 minute Thai Chicken Salad recipe is bright and full of flavor with a creamy dressing and lots of fresh, crunchy veggies.
Loaded with crunchy vegetables, salami, cheese, and beans, this Italian Chopped Salad is tossed with a flavorful Italian dressing.
Healthy Cobb Salad loaded with wholesome ingredients from lean chicken breast to fresh greens, salty blue cheese, and crispy bacon.
Spinach Avocado Salad with arugula, toasted almonds, and rich parmesan cheese tossed in a healthy dressing.
Learn how to make the ultimate Grilled Chicken Salad recipe with a simple formula for mixing and matching tender, juicy grilled chicken with leafy greens, veg, fruit, nuts, and a delicious dressing
Ground Turkey Recipes
It is true that turkey can be dry. But rest assured, I have included only the juiciest healthy dinner ideas for your pack of ground turkey.
It can be an acquired taste but mixing this lean poultry with vegetables or into chili or soup, is a great way to introduce your taste buds to it!
For more turkey inspiration, feel free to browse our collection of 45 ground turkey recipes.
Baked healthy Turkey Meatballs are a crowd pleasing appetizer and main dish favorite. Swap out fatty ground beef and try this delicious recipe made without breadcrumbs. It is one of the easiest quick healthy dinners on this list.
Need an easy healthy recipe for dinner tonight? These juicy and flavorful Turkey Burgers are made with 5 simple ingredients. Sumptuously moist, smack-your-lips and the best turkey burger recipe on the web!
Juicy baked Mexican Turkey Meatballs are easy to make in three simple steps. They can be served as a healthy appetizer, in soup or as part of a main!
Turkey Sliders with bacon, cheese and traditional fixings, everyone will love these wrapped in lettuce mini burgers! It is one of most flavourful quick healthy dinner ideas.
These Thai Turkey Meatballs with coconut milk, red curry paste and zucchini instead of breadcrumbs will get rave reviews from everyone!
Every spoonful of this Turkey Taco Soup is brimming with flavor thanks to the ground turkey, beans, corn, and a perfectly seasoned broth.
Healthy Salmon Recipes
Salmon is a treat because of its price but is a part of our healthy eating lifestyle because it contains healthy fats.
These healthy seafood recipes are ready in under 30 minutes and are an excellent choice for easy healthy dinner ideas.
Serve them with whole grains and a side of veggies instead of salad for a change!
Thai Salmon with easy homemade Thai sweet chili sauce cooked until caramelized on top and juicy inside. The best salmon recipe ever and perfect for quick healthy dinners!
Delicious Air Fryer Salmon and Brussel Sprouts in 20 minutes! Perfectly cooked salmon is tender and flaky in the middle and with crisp edges outside. When paired with nutritious veggies it becomes one of the best healthy meals for dinner. For example, like tonight.
Honey Garlic Salmon is 20 minute protein-packed main dish that comes together in one pan with simple ingredients and is crazy good! Serve it with a whole grain and your favorite side dishes for a balanced meal.
Flavorful Baked Teriyaki Salmon is glazed with a healthy homemade teriyaki sauce then oven baked in 30 minutes to flaky perfection. Leftovers are good in salads or grain bowls the next day.
Lime Ginger Salmon marinated in honey, lime juice and ginger, and then quickly broiled to perfection.
Baked Salmon in Foil with 10 minute prep comes out juicy and flaky with finger licking garlic butter and fresh herb seasoning. It is one of the most impressive and easy healthy dinner ideas you will ever make!
More Healthy Easy Recipes to Try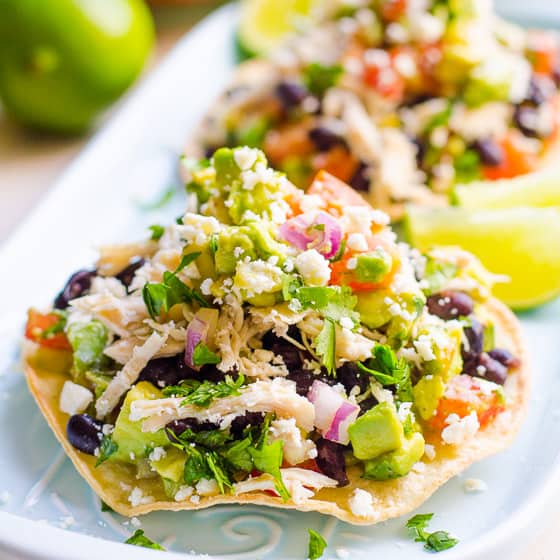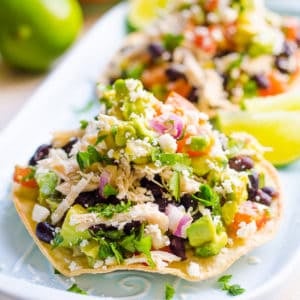 120 Quick Easy Healthy Dinner Ideas: Chicken Tostadas
These Chicken Tostadas are tasty, easy and kid approved. It is one of the best in this collection of 120 Quick Healthy Dinner Ideas. If you need easy, quick healthy meals for dinner tonight that are comforting and delicious, you have come to the right place.
Ingredients
8

corn tortillas or tostada shells

3

medium tomatoes

diced

4

medium avocados

diced

3

tbsp

red onion

finely chopped

1/4

cup

cilantro

finely chopped

1

tsp

ground cumin

1

tsp

chili powder

3/4

tsp

salt

Juice of 1 lime

15

oz

can low sodium black beans

drained and rinsed

3

cups

shredded chicken

like rotisserie or chicken breast

1/2

cup

feta or Cotija cheese

crumbled

Cooking spray

I use Misto
Instructions
Bake tostada shells:
Line a large baking sheet with a silicone mat and place tortillas in a single layer. Spray both sides of the tortillas with cooking spray and a sprinkle of salt. Bake at 400 degrees F for 6 minutes per side.
Make guacamole salsa:
Mix tomato, avocado, red onion, cilantro, cumin, chili powder, salt and lime juice.
Assemble tostadas:
Top each shell with guacamole salsa, beans, chicken and cheese.
Notes
I like making my own tostada shells, but you can use pre-made.
You can substitute refried beans for black beans.
In this recipe, adjust the amount of salt in the guacamole salsa to taste. Add more or less depending on the salt content in the homemade chicken, canned beans or store-bought tostada shells.
Nutrition
Serving:
1
tostada
|
Calories:
391
kcal
|
Carbohydrates:
26
g
|
Protein:
19
g
|
Fat:
21
g
|
Saturated Fat:
5
g
|
Cholesterol:
48
mg
|
Sodium:
451
mg
|
Fiber:
10
g
|
Sugar:
3
g