Create healthy salads that are anything but boring! These 52 Healthy Salad Recipes put crisp vegetables and juicy fruits front and center, can be protein packed, and enjoyed at lunch or dinner year round.
Need more healthy cooking inspiration? Sit back, relax and enjoy browsing these healthy muffin recipes, healthy dinner ideas, healthy grill recipes and healthy Instant Pot recipes.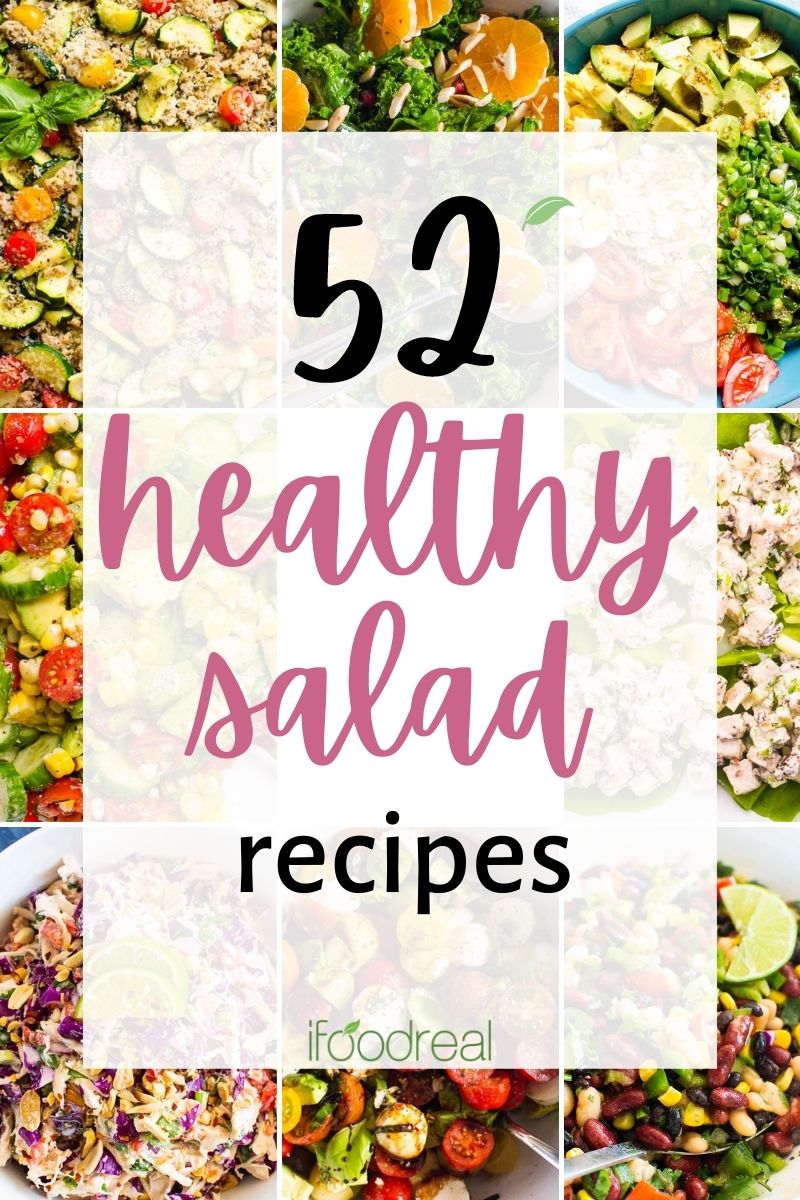 I'm fully aware that you can find many other healthy salad recipes on the web with a touch of a finger. But mine are the best types of salads! Pinky promise! In this list you will find healthy spinach salad recipes, kale salads, bean salads, and more – so many salad ideas, so little time!
These interesting healthy salad ideas can be for dinner or lunch. There are so many different salad types to enjoy including healthy fruit salad! Be sure to let me know what is your favorite!
Why These Are the Best Healthy Salad Recipes?
Easy recipes: In many of these salads, even a healthy salad dressing recipe is dumped into the same bowl. I do not love extra steps. We never did in Ukraine and look, I turned out just fine. 🙂
Simple ingredients: We are talking about superstore grocery basic avocado, greens, tomato, pasta and quinoa ingredients. However, I encourage you to buy local, seasonal and pesticide free whenever possible.
Meal worthy and nourishing: Most salad ideas are good as a healthy meal or will make you a potluck super star. Full of vitamins and nutrients rather than loaded with saturated fat, sugar and sodium, these salads are perfect for as salads for lunch or dinner.
Tasty: I have compiled a collection of salads I would truly enjoy eating like healthy no bake cheesecake. What is the prettiest salad worth if it tastes like kale?!
Salad FAQs
What is the healthiest salad you can eat?
Healthy salad recipes focus on fresh ingredients with a combination of healthy fats, vegetables, protein and fiber to not only fill you with good nutrients but also to fill you up and avoid a hunger crash a few hours later.

Other considerations include the type of lettuce you choose, the items you are putting in your salad and what salad dressing you are using to dress your greens.

For healthy salad recipes, focus on lightly dressing your salads with healthy salad dressings. This ensures you know exactly what is going on your salad and you can avoid added sugar, additives, preservatives and more.
Is it OK to eat salad everyday?
Yes, and I encourage you to do so, this list of different types of salads make it easier to come up with new ideas when considering a daily healthy salad recipes routine!
What are the types of salad dressing?
Salad dressing fall into two main categories – creamy or vinaigrette.

A creamy salad dressing usually uses yogurt, mayo or sour cream whereas a vinaigrette dressing is an oil/vinegar dressing with sometimes additional herbs. I love to make healthy salad dressings both creamy and vinaigrette and even have a dressing with creamy tahini! This healthy Greek yogurt veggie dip can double as a dressing.
What greens should I use in a salad?
Put that iceberg lettuce down, it's time to get acquainted with darker, leafy greens that are packed with nutrients! Kale and spinach contain immune boosting vitamins A and C and can be used interchangeable in healthy salad recipes.

If you are not a fan of those, try mixed baby greens, Boston, bibb or green leaf/red leaf lettuce which all have a nice mild flavor.

Looking for a zesty, peppery lettuce? Try arugula. Slaw is best made with crisp cabbage and if you can't just walk away from iceberg, try it mixed with romaine lettuce.
Green Salad Recipes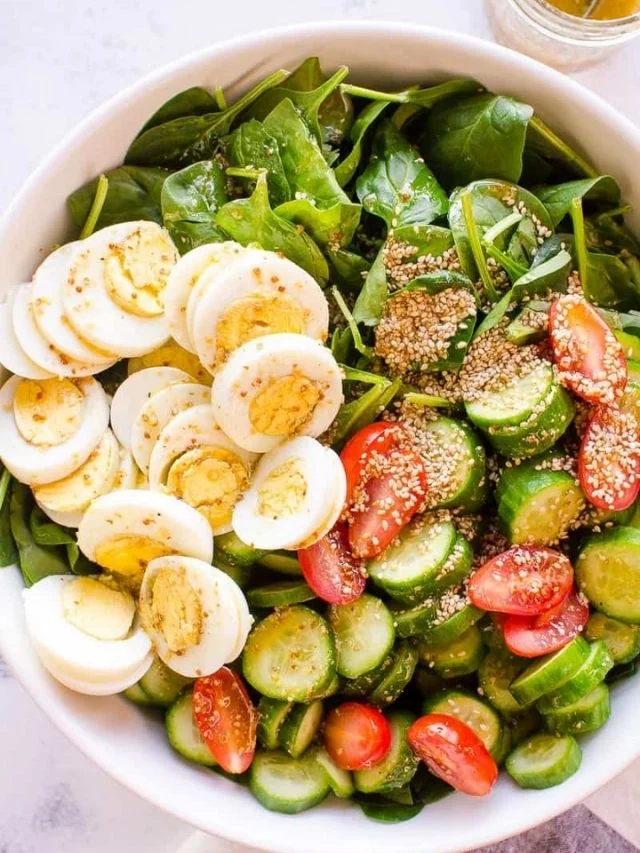 I serve this Spinach Salad year round for guests. Asian inspired salad dressing, hard boiled eggs, cukes and tomatoes combined with pre-washed baby spinach makes hosting easy!
This is the best Lettuce Salad with any lettuce. Five star reviews and that toasted sesame oil dressing is just magical! It is quick to make and light to enjoy with Instant Pot beef stew or Instant Pot chicken and rice. All these are Ukrainian recipes.
Beet Salad with zesty arugula, simple candied pecans, crumbled feta and easy balsamic dressing. Even if you are not a fan of beets, the creaminess of cheese combined with roasted nuts will win you over in this salad idea.
This Lemon Kale Salad is a healthy version of Caesar salad. Lots of garlic, freshly grated Parmesan cheese and toasted nuts. It is one of my favorite leafy green salads. Try it with my authentic borscht recipe or this ground beef bowls recipe.
Strawberry Spinach Salad with unique but simple balsamic dressing. This spring salad is the most surprising among the readers – no one expects so much flavor in simple types of salads. Healthy salad recipes are vibrant with eye pleasing colors and this one proves that! Serve this to mom along with healthy french toast casserole for a Mother's Day brunch!
I love peppery arugula! Are you with me? This Arugula Feta Salad idea comes together in 10 minutes. I make it for dinner, guests and blogger retreats, and everyone is surprised by the abundance of taste. For a complete Italian inspired dinner, make this Instant Pot lasagna and your mind will be blown.
This Massaged Kale Salad is perfect for fall and winter when seasonal produce is scarce. Pomegranate, orange and toasted almonds coated in delicious orange ginger dressing. I make this salad idea often at the holidays with sirloin tip roast.
Massaging kale softens the tough fibrous leaves, which can often be a turn off when people try it. Try massaging it a few hours before you plan to eat it, one of the best things about kale is its ability to stay 'fresh' even after dressed!
Mexican Kale Salad is one of the first kale salads I ever created and a reader favorite. Beans, corn and pepper are mixed with tender baby kale in creamy avocado dressing. Even your grandpa who never tried kale will love this healthy salad recipe!
Italian Chopped Salad with fresh greens, Instant Pot chickpeas, creamy mozzarella balls, fresh vegetables and salami. Drizzled with a fresh herb dressing, this cold salad is the perfect starter, lunch salad or dinner side salad with grilled salmon.
All the classic taste but lightened up in this Healthy Caesar Salad! Paired with a Greek yogurt healthy caesar dressing and then tossed with sourdough croutons, lunch just got an upgrade!
Serve with air fryer lamb chops for crazy good dinner!
Expand your definition of different types of salads with this Grilled Romaine Lettuce! It's the perfect easy side to any grilled recipe. Crispy romaine gets slightly wilted with charred grill marks, you won't believe how tasty this salad idea turns out!
Top Tips for How to Make a Salad
Building great salad ideas isn't rocket science, but there are some key qualities that make a healthy salad amazing – just check out our perfect formula! Here are the cliff notes version – so with any different salad ingredient combination you will know how to make a healthy salad recipe:
Flavor of ingredients: Must blend well together – i.e. roasted red peppers, pepperoncini, olives and feta are perfect for an Italian or Greek salad
Freshness of ingredients: Crisp veggies, sweet fruit, fresh herbs/greens – the fresher your ingredients the more tasty the salad!
Appealing to the eye: 'We eat with our eyes first' – I am not sure who said that but it's true – the more colors the better.
Different textures: Creamy cheese with crunchy nuts, soft berries with crisp veggies, flaky salmon with buttery salad greens – you get the picture, textures creates taste explosion!
Homemade salad dressing: Trust me it just makes your salad greens taste better, the ingredients are fresh and there are not any preservatives when you make your own healthy homemade salad dressings, enough said!
Grain Bowls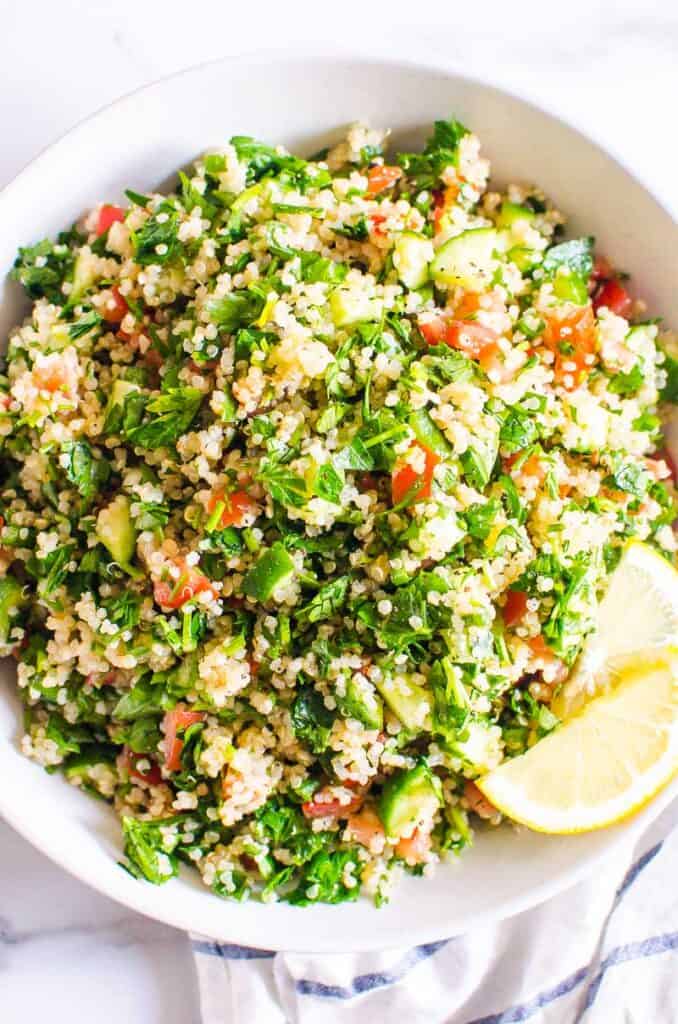 Mediterranean Quinoa Salad with olives, feta and veggies is a marriage of quinoa and Greek flavors. It's a great example of healthy salad recipes that last in the fridge for a few days making it perfect for a work salad for lunches.
Quinoa Tabbouleh is traditional Middle Eastern salad minus bulgur. Lots of chopped parsley, mint and veggies combined with more widely available quinoa. Perfect cold healthy salad recipe with healthy lemon chicken!
Warm vs. cold quinoa salads: Really it comes down to preference! Serve your quinoa salad warm for dinner tonight and eat it cold tomorrow for lunch. The longer your quinoa 'sits' the more it's flavors will develop and have time to 'marry' resulting in a delicious meal prepped salad!
Broccoli Quinoa Salad is a cold quinoa salad with toasted almonds, herbs, olive oil and lemon. Broccoli is chopped in a food processor to make salad quick.
Avocado Blueberry Quinoa Salad with avocado, toasted pecans and homemade lime basil dressing. Unexpected combination of ingredients will make you think of this salad for days. Enjoy for a light lunch with almond muffins with berries! Use leftover fresh blueberries to make healthy berry trifle, another summertime favorite.
Southwest Quinoa Salad is one of few healthy salad recipes where tri-colour quinoa shows off its hearty texture. Plus lots of corn, bell pepper, black beans, cilantro and spices. YUM! Add cooked and chopped Instant Pot chicken breast that will soak up Southwest flavors.
Superfood Quinoa and Black Bean Salad for lunches all summer. It is full of protein, tasty and easy! Meal prep it on Sunday, make ahead for a party or simply clean out the fridge.
Kale and Quinoa Salad is a cozy fall salad with toasted walnuts, sweet crispy apples, nutty quinoa and superfood kale – all the ingredients really come together and shine in this example of healthy salad recipes.
Quinoa Types of Salad Tips
Quinoa is a gluten free, plant based superfood full of fiber and nutrients! This ancient grain is great for meal prep plus so versatile in salads and more!
Perfectly cooked quinoa: A good grain salad starts with fluffy quinoa, not overcooked and not undercooked. Make perfect quinoa every time using my how to cook quinoa on the stovetop.
Color and texture: Add lots of fresh crunchy vegetables to give your quinoa salad extra special taste.
Flavorful dressing: On it's own quinoa doesn't have much taste, use your favorite dressing to give it some zing.
One 'pot' meal: While great on it's own, feel free to add your favorite protein, leftover grilled chicken, steak,turkey or even tofu. You could also add quinoa to lettuce wraps or tacos!
Out of quinoa?: But still want one of these salads? Most can be made with brown rice, just note that the protein content will change.
High Protein Salads
Healthy Taco Salad with very well seasoned ground turkey and lighter yogurt dressing. Cooked black beans, tomato, avocado and corn truly make this taco salad healthy. You may also love these healthy taco recipes!
This Tuna Salad took over Pinterest. It is an extremely easy salad idea, creamy and doesn't lack flavor like yogurt based ones and isn't drowned in cups of mayo. Perfect for a Mother's Day light lunch followed by almond flour lemon cookies!
This Healthy Chicken Salad is not missing mayo or flavour. On the contrary, it is creamy, tasty and contains simple ingredients. And a must for healthy salad recipes list! Spread some on a whole grain or sourdough toast and enjoy heaven in your mouth!
I like my Healthy Egg Salad chunky. What about you? If we disagree on texture, I am sure we can agree that this type of salad should be creamy and flavorful. We make egg salad for easy lunches and picnic food in our own backyard.
How long can salads with creamy ingredients such as mayo or Greek yogurt sit out? If you are planning on taking chicken, egg, or tuna salad to a backyard BBQ you should be able to have it safely sit out for 2 hours, then it should be moved to the refrigerator.
Tuna Egg Salad is another quick and creamy version of healthy salad recipes! A perfect meal prep salad with a variety of ways to enjoy it! Whether you have it on a salad, in a wrap, or over toast, it's delicious.
Avocado Egg Salad can be tasty. It took me a few years to warm up to it but now I am sold. A perfect ratio of healthy fats and protein dressed with simple seasonings. It is good!
This Grilled Chicken Salad is a copycat of any fancy restaurant's $25 salad. Grilled chicken breast, baby greens, berries, and nuts are "married" with poppyseed dressing for a delicious salad idea you will make all summer long.
Tired of chicken salad? Try this glorified version of healthy salad recipes with crunchy cabbage and bell pepper, roasted peanuts and cilantro.
Bring to a potluck or enjoy for lunch, this Shrimp Avocado Salad is easy to make either way as it requires no cooking. Perfect summer dish with beautiful colors from crunchy vegetables.
Canned Salmon Salad is not your regular tuna fish salad. It is chock full of veggies, avocado, and healthy yogurt dressing.
Healthy Shrimp Salad is for shrimp salad lovers. It reminds me of books about Nantucket where everyone seems to be packing lobster rolls for lunch and dinner. Is it even true?!
This Smoked Salmon Salad will blow your mind for it's so simplicity in this list of healthy salad recipes. Think of opening a package with smoked salmon and mixing it with avocado and arugula. A five minute healthy lunch idea without cooking.
How Can I Add More Protein to Salad?
Power up your healthy salad recipes and make them a meal by adding protein! Adding protein, whether meat, plant based, or a combination of both can help you stay satiated and full longer. Protein builds muscle and can help you stay energized throughout the day! Here are some easy ways to add more protein to your any type of salad:
Cooked poultry: This is a great way to use up leftovers of ground turkey or Instant Pot chicken, too!
Add beans or legumes: Cooked chickpeas are a favorite plus have great texture.
Nuts and seeds: Sesame seeds, pepitas, sunflower seeds, toasted pecans, walnuts, pistachios are all favorites.
Bacon: Not just for breakfast potatoes, a small amount of chopped bacon can add that savory touch (plus protein) to salad.
Quinoa: A great plant based option and it's a protein powerhouse!
Cooked eggs: Make Instant Pot hard boiled eggs or hard boil eggs in air fryer and have them at the ready to toss into a dinner salad.
Fish and seafood: A great source of lean protein, try adding grilled salmon, air fryer shrimp, or keep it super easy with a can of crab meat or tuna!
Pasta Salad Recipes
I would say this Italian Pasta Salad is one of my favorite cold summer types of salads! Pasta, salami, veggies, olives, cheese in super easy zesty Italian dressing. And it keeps and travels so well. What not to like?!
As soon as summer arrives, I bookmark my Healthy Pasta Salad recipe. Chock full of vegetables, healthy herbed oil dressing and whole grain pasta, kids love to munch on this salad idea all day long. Pair this with flavorful chicken that has been marinated and you have a full healthy salad recipes meal!
Tomato Pasta Salad is a marriage of pasta and tomato salads inspired by my Ukrainian roots. Lots of herbs, garlic, olive oil and feta cheese to "seal the deal".
Ready in 20 minutes, this lightened up healthy tuna pasta salad is perfect for a summer lunch, picnic or potluck!
With whole grain pasta and a lightened up creamy dressing, this healthy macaroni salad will be the hit at your next summer BBQ! Plus, no one will feel guilty about having just a spoonful more.
Best Tips for Building a Pasta Salad Recipe
Rinse pasta after cooking: This helps stop the cooking process immediately.
Cook to al dente: I talk about this alot in healthy pasta with pesto recipe, and it's super important when making a cold pasta salad, too! If your pasta is overcooked, as the dressing soaks into the salad, you will end up with soggy noodles.
Use the right pasta shape: Short pasta shapes are best, as the dressing will soak into all the nooks and crannies, plus they are small and easy to eat.
Add salt to pasta water: Salting your pasta water adds flavor to your pasta!
Dress while warm: Add some dressing while your pasta is still warm, then the remainder before serving. Warm pasta absorbs the dressing better making for a more flavorful pasta salad recipe!
Bean Salad Recipes
Chickpea Avocado Salad, tomatoes, and cucumber is literally the easiest healthy salad recipes you can throw together in 15 minutes. And just to make sure you heard me – use what you have on hand. Easy! To add protein for healthy salad recipes, serve alongside baked chicken breast.
All you need to make White Bean Salad is olive oil, vinegar, garlic, herbs, red onion and any fresh crunchy veggies. I even used black eyed peas because they are white beans. 🙂
Mango Black Bean Salad is perfect spring-summer for potlucks, easy lunches and dinner ideas. I make it a lot when ataulfo mangoes hit grocery stores and a box costs $10.
Healthy salad recipes are not only delicious but when eating in season budget friendly!
Mexican Bean Salad combines a selection of tasty beans with corn, tomato, bell pepper, and a simple salad dressing for a dish that seems too simple to be as delicious as it is. A must have for any potluck or picnic!
Tips for the Best Bean Salad
Use from scratch beans: While the convenience of canned beans is nice, you will be amazed at the taste difference when you make your beans from dried! Try making beans in the Instant Pot or on the stovetop.
Add dressing to warm beans: It will help absorb the flavor of your dressing better! If you are starting with cold beans, warm them quickly in the microwave or on the stovetop, then add dressing.
Make it the night before: Bean salads are the perfect make ahead salad for dinner the next night! The flavors will meld together, producing a very flavorful salad. If the recipe calls for diced avocado or fruit, add right before serving.
Bold flavors: Fresh, fresh, fresh salad ingredients like herbs, vegetables, garlic, onion, freshly grated cheese all taste best etc!
Vegetable Salads
Corn Avocado Salad is one of the most popular salad recipes on iFOODreal. Fresh summer produce with a hint of lime makes this delicious and a keeper for our healthy salad recipes list. Perfect for summer although you can use frozen corn year round. Great accompaniment to a grilled chicken or chicken tostadas.
Cauliflower Potato Salad is faux potato salad with cauliflower instead of potatoes. Low carb, keto and I promise 100% everyone will barely notice the ingredients for this healthy salad recipe. Equally outstanding with lamb roast.
Broccoli Salad without mayo or bacon is not a broccoli salad idea I want to eat. And these sacrifices are not necessary. We combine fresh broccoli, cranberries, red onion, and sunflower seeds with healthy amount of crumbled baked bacon and creamy yogurt dressing.
This Cucumber and Tomato Salad is the one I grew up eating in Ukraine. We add optional toasted sesame oil that mimics authentic unrefined sunflower oil taste. And my mom usually served it with her baked chicken thighs recipe.
Crisp cucumbers, a simple dressing, plus ready in only 10 minutes makes this Healthy Cucumber Salad a winning salad to make all summer long!
I have really perfected my Healthy Potato Salad. I consider potato salad not a real thing if it doesn't have a touch of mayo. And it's all it needs in healthy salad recipes. The rest are pickles, eggs, condiments and yogurt, well unless you are making this Russian potato salad variation. It is simply delicious when served along the side of healthy burger recipes!
Traditional Greek Salad is our universal salad that goes with everything. My version takes 15 minutes to prep and contains no lettuce. It is a copycat of Greek fast food chain OPA's salad. Serve with turkey meatballs or ground turkey meatloaf.
Creamy Cucumber Salad is light, fresh and affordable year round. This is my grandma's recipe I grew up with in Ukraine. I am using yogurt in place of sour cream to make salad lighter. It would go so well with turkey pasta bake.
How can I make my cucumber salad less watery? Salt your cut cucumbers in a colander and let them drain for 20-30 minutes up to an hour. While I find this not a necessary, step you might like the extra crisp results.
Asparagus Salad is a perfect spring salad when asparagus shows up in stores. Mixed with eggs, veggies, toasted nuts and Dijon vinaigrette, it is kind of a cobb salad.
Healthy Mexican Street Corn Salad is a healthy version of elotes. Warm grilled corn combined with salty and garlicky feta dressing. Need I say more?! Try with my popular fish tacos recipe.
Avocado Salad with 3 ingredients will become your new favorite after guacamole. Green onion replaces cilantro and it is the best!
Fresh and delicious Creamy Cucumber Tomato Salad is a summer staple I grew up eating in the Ukraine! This easy salad comes together quickly and is the perfect side for any grilled protein.
Best Vegetable Salad Recipes Tips
Use the freshest ingredients: While stir fry is great for cleaning out the fridge, a good vegetable salad tastes best with the freshest produce!
Chop vegetables into small pieces: Easier to chew and you are able to get a variety on your fork, then into your mouth for maximum taste.
Fresh herbs: Really make your salad pop, use fresh cilantro, parsley, dill, thyme, oregano, basil or your favorite.
Cabbage Slaw Recipes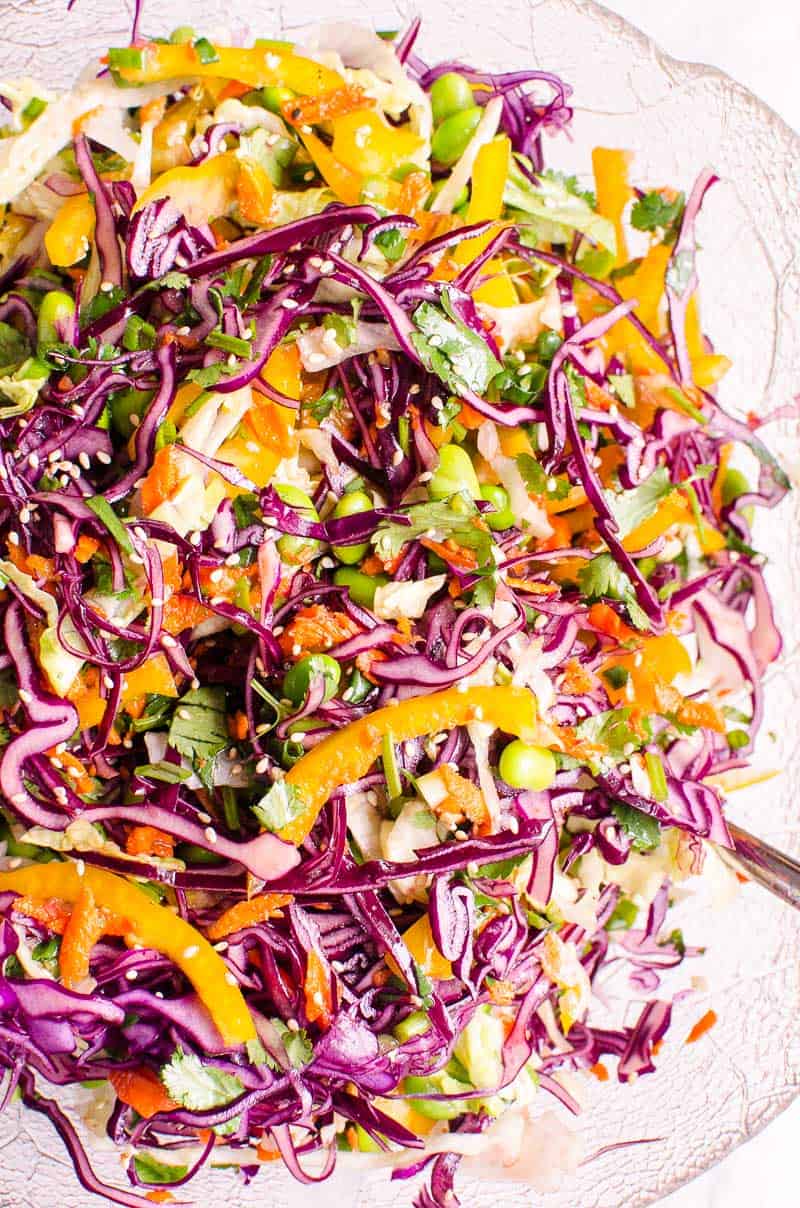 I make Asian Chopped Salad when I am tired of other types of salads as it is quite different. Red or green cabbage with edamame and cilantro, and super easy Asian salad dressing. For a complete Asian fair, serve with healthy orange chicken, baked honey garlic chicken or honey garlic salmon.
Healthy Coleslaw with bagged slaw and easy homemade yogurt dressing. No cups of mayo and a perfect creamy accompaniment to shrimp tacos, pulled pork, Instant Pot BBQ chicken and just overall a great year round side.
Mango Slaw with addition of juicy mango, vinegar and cilantro eliminates any need for oil or mayo based dressing. So easy and good especially as a summer salad recipe!
Is there a difference between coleslaw vs. slaw? Overall, not really! Call it slaw, coleslaw, cole slaw, or cabbage salad, they all refer to a tangy, crunchy salad that is sometimes creamy, too. The way it is made really comes down to regional or personality differences!
Ukrainian Dill coleslaw is a no mayo coleslaw made with cucumber, tomato, bell pepper, dill and vinegar! Perfect as a dinner healthy salad to accompany baked chicken thighs or ground chicken burgers.
Just 4 simple ingredients are in this authentic Ukrainian vinegar coleslaw. Fresh, vibrant and crunchy this will be your go to coleslaw recipe. It is the perfect side dish for any summer healthy grill recipes.
The combination of peanuts, bean sprouts, cilantro, and green onions along with the peanut sauce make for an asian inspired Peanut Slaw that is both delicious and addicting! Try this with sweet chili salmon for a themed dinner.
Tips for Best Cabbage Salads
Uniform cabbage shreds: Will absorb the dressing better as well as make it easier to eat! Use a mandoline or food processor for perfect shreds.
Don't skip the salt: If you love your coleslaw crisp, salt it first! Add salt to shredded cabbage, let is rest for 30 minutes, then rinse it well before proceeding with the recipe.
Give time for the flavors to develop: While you can eat slaw right away (like in shrimp tacos with slaw!), letting it sit for a few hours gives the slaw time to meld together.
Continue to taste and season: Make it your own! Add more zest, tang, spice or however you love your slaw!
Serving Recommendations for Healthy Salad Ideas
While some salads are main dish dinner worthy, other salads are perfect as a side salad. Even when a salad is a meal you may want an appetizer to tide hungry appetites over until everything is ready.
I hope you enjoy this amazing collection of healthy salad recipe ideas!
Looking for Healthy Salad Dressings?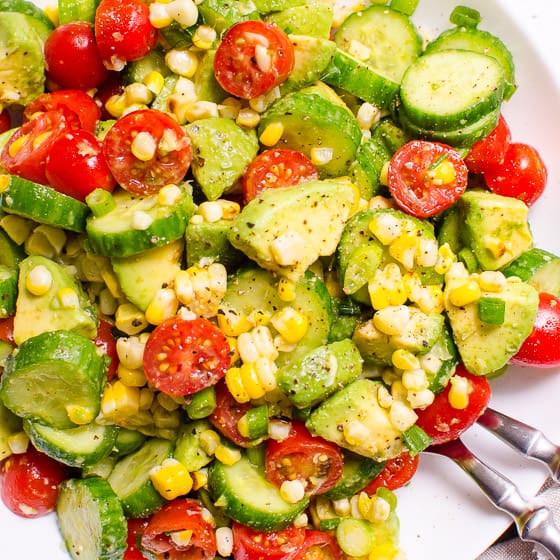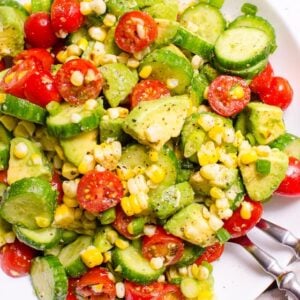 52 Healthy Salad Recipes: Corn Avocado Salad
One of our most popular healthy salad recipes! Corn, tomatoes, cucumber and avocado are simply dressed with a hint of lime. Perfect salad starter, dinner side salad, side dish to any protein or make for an easy lunch!
Ingredients
3

ears of corn

2 cups corn kernels

1

lb

mini cucumbers or 1 large English cucumber

sliced

1

lb

grape/cherry tomatoes

cut in halves or regular size, chopped

3

medium-large avocados

cubed

3

green onion sprigs

finely chopped

1

lime

zest and juice of

2

tbsp

olive oil

extra virgin

1/2

tsp

salt
Ground black pepper

to taste
Instructions
To grill corn, remove it from the husk and grill on medium heat for approximately 20 minutes. Turn every 5 minutes.

To cook corn in Instant Pot

, add 1 cup water, trivet and as many corn as you can fit. Pressure cook on High Pressure for 2 minutes and then release pressure right away.

If using frozen corn, run it in a colander under warm water for 1 minute and drain.

Cut off cooked kernels from the cob by slicing them with a chef's knife. You will end up with strips of cooked corn.

Add cooked corn, cucumber, tomato, avocado, green onion, lime zest and juice, olive oil, salt and pepper to a large salad bowl.
Notes
Store: Refrigerate covered for up to 1 day.
Nutrition
Serving:
0.66
cup
|
Calories:
269
kcal
|
Carbohydrates:
23
g
|
Protein:
5
g
|
Fat:
20
g
|
Saturated Fat:
3
g
|
Sodium:
214
mg
|
Fiber:
10
g
|
Sugar:
7
g